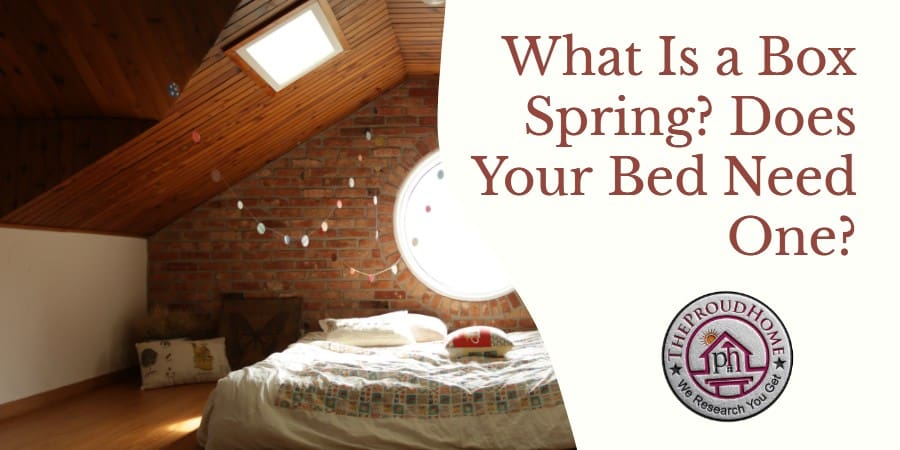 Have you purchased a new mattress? If yes, then you must be looking for the best box spring. Before you do so, you should first know whether your bed needs a box spring or not.
You must be surprised to know that not all mattresses require a box spring. So, if the sales guy has already convinced you to purchase one, pause a little bit. Here, I will tell you what a box spring is and what kind of bed actually requires one. You will also find some additional valuable information in this article.
So, stay tuned!
What Is a Box Spring?
---
Using a box spring for the bed has been in use for years. The purpose of using this box spring is to ensure comfort. Generally, mattresses are equipped with metal coils; hence it feels soft and comfortable when used on the bed. However, it didn't feel as comfortable when laid on a bare surface.
Also, keeping on a flat surface ruins the shape and structure of the mattress soon. Therefore, to ensure comfort and prolong the mattress's life, the box spring has been designed. It also has the capability to withstand pressure and shock. Thus, the mattress stays in shape and has an intact structure even after being regularly used for years. Because the box spring comes in the same size as the bed.
At present, it's easy to find box springs with real springs within. And, to protect the springs, they are covered with fabric. Then, the frame is made of wooden slats. These salts work as the base or support system for the mattress. So, when the mattress stays on the box spring, it doesn't sag like it usually does on the bed.
The purpose of using a box spring is not just one. It does provide support to the mattress. Additionally, if you decide to keep the mattress on the surface, then the box spring will uplift the mattress and bring it to a comfortable height. Thus, instead of the mattress, the box spring will withstand pressure and absorb shock, which is essential to increase the durability of the mattress.
More importantly, the box spring is hollow inside, which ensures better airflow. So, when you sleep at night, the mattress will remain cool and give you the desired comfort.
Does Your Bed Need a Box Spring?
---
Certainly, box springs have so many advantages. But it's not required for all kinds of mattresses. So, before you purchase one, check the details below to know whether your bed needs one or not.
There are versatile mattresses out there. For many years, people were fond of innerspring mattresses. Over time, these mattresses became less famous, and people fell for foam mattresses. And the popularity of the foam mattress is ever-growing.
If you have a foam mattress, most manufacturers suggest not going for box springs. Why? Because foam mattresses when it's on the box spring, chances are that they will sag easily. Apart from the mattress, there are some important things to pay attention to; which is it?  The bed!
Most of the beds are designed with just a metal or wooden frame. It doesn't have anything in the middle. So, if your bed is similar, then a box spring will give you the proper support for the mattress. Nevertheless, if you are not a fan of bed, then great!
Instead of putting the mattress on the surface, you can use the box spring to rest the mattress on it. This way, the mattress will be uplifted and will have proper support in the middle as well to withstand shock. So, before you purchase a bed spring, consider the type of mattress or bed you are using to put the mattress on.
What Are the Differences Between a Box Spring, Platform, and Foundation?
---
To support the mattress, box springs are not the only option. As a mattress does need support for prolonged life, there are options to use as a base, such as a platform or foundation. You may choose not to go for any, but in that case, the mattress will lack proper airflow. It can not only cause health issues but also ruin the mattress faster. So, before you choose a base for your mattress, let's learn the basic difference between them.
As you already know, box springs are made of wood or metal frame. It comes with coils or metal grids wrapped in fabric. At the same time, a foundation is a wooden slat. It doesn't have any spring to withstand shock. They are a good base for foam mattresses.
And finally, a platform primarily works as a foundation for the bed. It comes with four legs and sometimes storage options. They are a good option for keeping mattresses but tend to be on the expensive side.
---
Know More About Box Spring
---
Now you know how to choose a box spring mattress. We hope you already have a box spring or you are researching before buying it.
If you haven't bought it yet and want to compare the quality and price of some top products on the market, you can check the top 3 items below.
So, how were the top three collections? Did you find yours? If yes, then congratulations! But, if not, then you have the option to compare more products before making the final decision.
You can check out our top ten 5 Best Box Spring reviews with a handy comparison table.
Final Verdict
To sum up, box springs are a support system for mattresses. Though all mattresses don't need a box spring, it's a good choice for an innerspring mattress. It will ensure comfort and durability for the mattress.