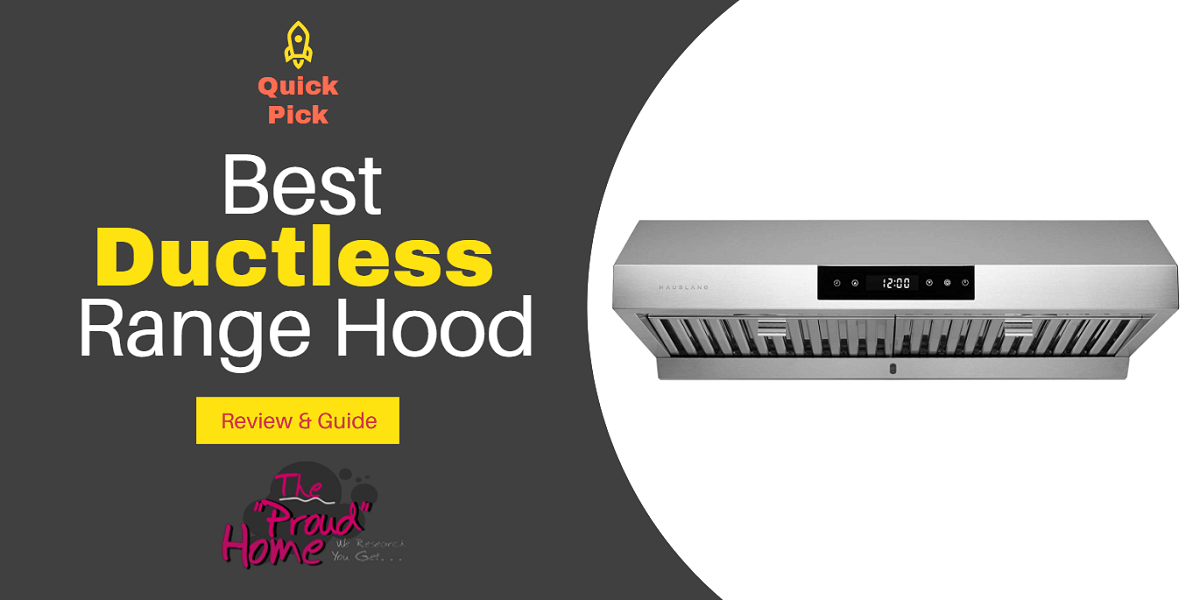 Are you planning to renovate your kitchen at a budget-friendly price? Then, don't forget to install the best ductless range hood for proper ventilation in your kitchen area.
And why do I suggest going to a ductless kitchen hood? Well, it's certainly less expensive than the ducted ones making sure your kitchen air is fresh, free from smoke and smell. Whether you live in a rented house or your own home, a ductless range hood with a charcoal filter is always easy to install and use.
However, no matter if you are looking for a ducted or ductless range hood, you must look for hundreds of range hoods ductless and ducted from numerous brands. Also, you need to go through pages of range hood reviews. Certainly, it's a time-consuming job that can leave you confused.
Hence, to help you find the desired and the best ductless range hood with charcoal filter, I have chosen nothing but only the best products that will give you a serene cooking experience. Also, to help you understand and identify which range hood will be suitable and appropriate for your kitchen, I am also addressing some of the key information about the necessity of a ductless range hood, its types, key features, and so on.
So, if you want to win over a ductless range hood that is worth every penny, don't miss any detail in this article.
Top 3 Ductless Range Hood in 2021
In a hurry? These 3 are the Best Ductless Range Hood in 2021:
What Is a Ductless Range Hood and Why Do You Need It?
---
You may already know what a ductless range hood is; still, I would like to address it briefly for a better understanding. Well, a ductless range hood comes with a motor-based fan or blower and a charcoal filter. The filter captures and evacuates the heat, scent, smoke, and greasy particles from the kitchen. As a result, you get to breathe fresh and breathable air in your kitchen while cooking.
Needless to say, why you actually need a range hood in your kitchen as only a cooking person knows how awful it is to breathe and keep the eyes open when there is smoke or burning scent while preparing any dishes. Hence, installing a range hood seems like a luxury for many, but if you can do it at a budget-friendly price, why not get it, right!
Besides, other than ducted range hoods, the ductless ones require small space and are easy to install and use. So, you can simply purchase and install it in your kitchen, no matter how big or small your kitchen is. Also, you don't need any duct to make the range hood work.
Nevertheless, cooking is a continuous activity, and we do cook different types of food such as fried, steamed, boiled using oil and lots of spices. Therefore, soon we notice the wall, cabinet, and other rarely used kitchen accessories tend to get greasy, leaving the kitchen area gross. With a ductless range hood, you don't have to deal with grease anymore, and you can enjoy a clean and tidy kitchen atmosphere just like any other room at your home.
Best Ductless Range Hood Comparison
| Image | Name | Summary | Our Rating | Get It |
| --- | --- | --- | --- | --- |
| | Broan-NuTone 413004 Non-Ducted Ductless Range Hood | Easy to install. Doesn't make noise. Features simple controls. The fan is relatively quiet. Well-built and very durable. | | Check Price |
| | FOTILE JQG7501.E 30" Range Hood | LED lighting. Touch control. Powerful motor. Futuristic design. Strong materials. Large coverage area. | | Check Price |
| | Cosmo 5MU30 30 in. Under Cabinet Range Hood | Operate quietly. 5-button controls easy to operate. Multi-layer grease and oil filtration. Convertible from ducted to ductless. | | Check Price |
| | CIARRA CAS75918B Under Cabinet Ductless Range Hood | Powerful fan. Quiet operation. Bright LED light. Easy to install and use. Slim and attractive design. | | Check Price |
| | Golden Vantage Wall Mount Stainless Steel Kitchen Range Hood | Easy to use control panel. Very bright 1.5 W LED lights. Bold Style and Elegant Design. The fan is adjustable at three speeds. | | Check Price |
5 Best Ductless Range Hood of 2020
---
Here we are going to review the top 5 best ductless range hoods. All of the products are from renowned brands. You can have your full faith in our review. Don't forget to read the important topics on the ductless range hood. All of the info will help you to choose the right one for you. Now, let's jump on the review section!
---
---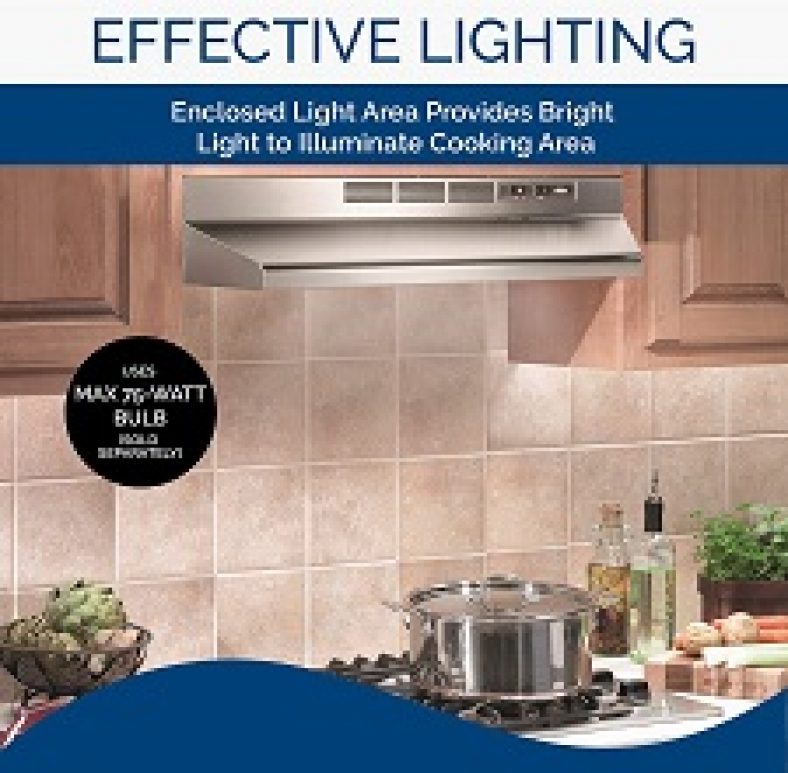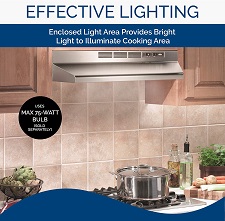 If you are in a hurry and want to buy the best one without wasting time, we suggest you take this 30-Inch, Stainless Steel Range Hood from Broan-NuTone. As you see, we have mentioned all the bullet points of this product in our top 5 table; here, we will discuss the product broadly.
It's a high-quality ductless range hood with a 2-speed motor (the motor is permanently lubricated). The range hood comes with a stainless steel hood insert that improves ventilation and lighting over your stove. It also comes with a non-ducted filtration system that effectively removes smoke and odors from your kitchen.
The range hood features effective incandescent lighting. It has a protective lamp lens that distributes light evenly over the cook-top. You will be happy to know that it accepts up to 75W bulb, but here is a piece of bad news. The bulb is not included in the package.
The range hood is easy to maintain and clean. Its charcoal filter is replaceable, and you can replace it whenever you want to keep your kitchen clean and to maintain optimum grease capture. Besides, it has separate rocker switches that help you control the light and the 2-speed fan.
The insert of this range hood measures around 30 inches. You have to install it at least 18 inches above the cooktop. It is installed as hardwired, or you can install it with an optional power cord kit- HCK44 that is sold separately.
The package includes a non-ducted filter. It can work in an ADA-compliant application and is available in a variety of colors and widths. As it is made of stainless steel, durability will not be a concern. So, if you are searching for the best under cabinet range hood, this product should be on your consideration.
What we liked:
Easy to install
It doesn't make noise
Features simple controls
The fan is relatively quiet
Well-built and very durable
It comes with an efficient filtration system
Includes lights to illuminate your cooking area
Strong and durable stainless steel construction
What we did not like:
No automatic sensors
The bulb is not included with the unit
---
---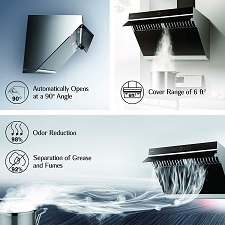 If you have a high budget and want to buy the best wall mount range hood, we recommend this FOTILE JQG7501.E 30″ Range Hood to you. Don't worry; you can use it as an under cabinet range hood too. Two facilities in one range hood!
The product is from FOTILE, an ancient company established in 1996 by Zhongqun Mao. You may hear about this brand. If not, I insist you google about the brand and know their success history. We better discuss this range hood now.
It's a side-draft range hood with a unique design that will help reduce cooking fumes from spreading and lead cooking fumes to the air inlet. The product includes a 90° automatic open baffle plate that is capable of covering 6 ft² of range space. It comes with a powerful dual motor. It will reach 380 Pa velocity with a 58dB noise level in one touch!
Its vent hood will efficiently remove cooking fumes and even smell from your kitchen and give you a comfortable as well as a hygienic cooking environment. The range hood comes with touch screen control and 3-speed settings. After you finish cooking, no smell will be left in your kitchen as it features a delay function.
You may be thinking about its maintenance. Don't worry; the range hood is easy to maintain as it has a special impeller design that can achieve 92% separation of grease and fumes. It includes an easy-to-remove large grease tray and oil filter, so all the grease will drip into them.
Installation is one of the major topics to think about before buying a range hood. Here is the good news! FOTILE offers professional installation services with additional charges in more than 50 cities. So, considering all of its features, we think it will be the best buy for you! What do you think? Wanna have a try!
What we liked:
LED lighting
Touch control
Powerful motor
Futuristic design
Strong materials
Large coverage area
Handy screen lock function
Easy maintenance and cleaning
What we did not like:
A bit expensive but great in quality
---
---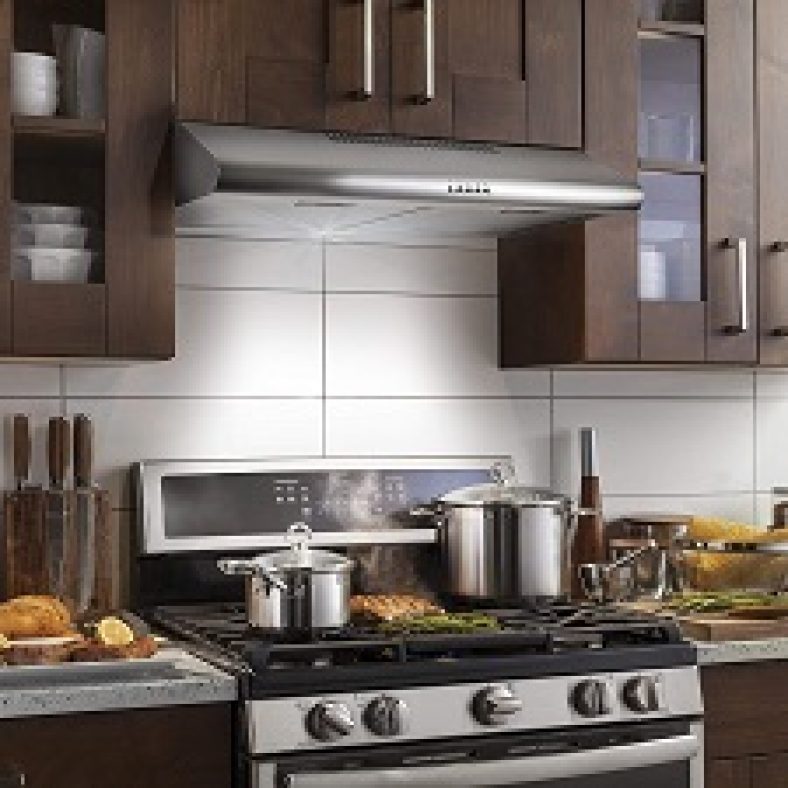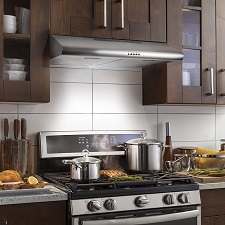 If you have a tight budget and searching for the best under cabinet range hood, Cosmo 5MU30 30 in. is the perfect solution for you. What are you thinking? It's not a ductless range hood, right? And why have we added it to our list as it's a review of ductless range hood? Here's the deal! Though it's an under cabinet range hood, you can simply switch it to ductless. We will discuss it at the end of this product review. Now let's discuss its features and benefits!
This range hood is built with cutting-edge technology that provides you with the utmost cleaning experience. It will make your kitchen beautiful and protect your health. Besides, it comes with a slim design which will help you save space in your kitchen. The range hood is perfect for condos and apartments.
You will be happy to know that it is an energy-efficient and quiet range hood, though it comes with a 3-speed motor, 56dB max. It features 3 fan speeds. You can choose from high, medium, and low suction, depending on your cooking needs. It is capable of filter a kitchen without loudness and sound. This range hood features multi-layer filtration. It includes two dishwasher-safe, durable, as well as reusable aluminum mesh filters that are great to filter grease and oil.
It is made of 430 grade brushed stainless steel with a 20-gauge thickness that is durable and long-lasting. Also, its efficient suction removes smell and odors from your kitchen with ease. The range hood features easy push-button controls to operate the fan and lights with ease. Moreover, it has built-in high-lumen LED lighting that ensures visibility for cooking. The package includes a 3-Prong Plug for easy use and a back-draft damper to prevent air from coming back inside.
As promised, now talking about the conversion to ductless. It's simple; you need a carbon filter kit to convert it from under cabinet to ductless. The kit is sold separately. At first, you have to open the unit by removing the two mesh filters. Locate the switch in the middle of the fan unit. Now remove the screw. After that, change the switch position to the ductless position. Now, replace the screw. In this step, take the carbon filter kit you have purchased. Place the charcoal filter on top of the middle piece and screw it into place. Now, replace mesh filters. You are done! It's ductless now!
What we liked:
Operate quietly
Affordable price
Have the multi-layer filters
Lightweight and long-lasting
5-button controls easy to operate
Multi-layer grease and oil filtration
Convertible from ducted to ductless
What we did not like:
The LED lights dimly glow
---
---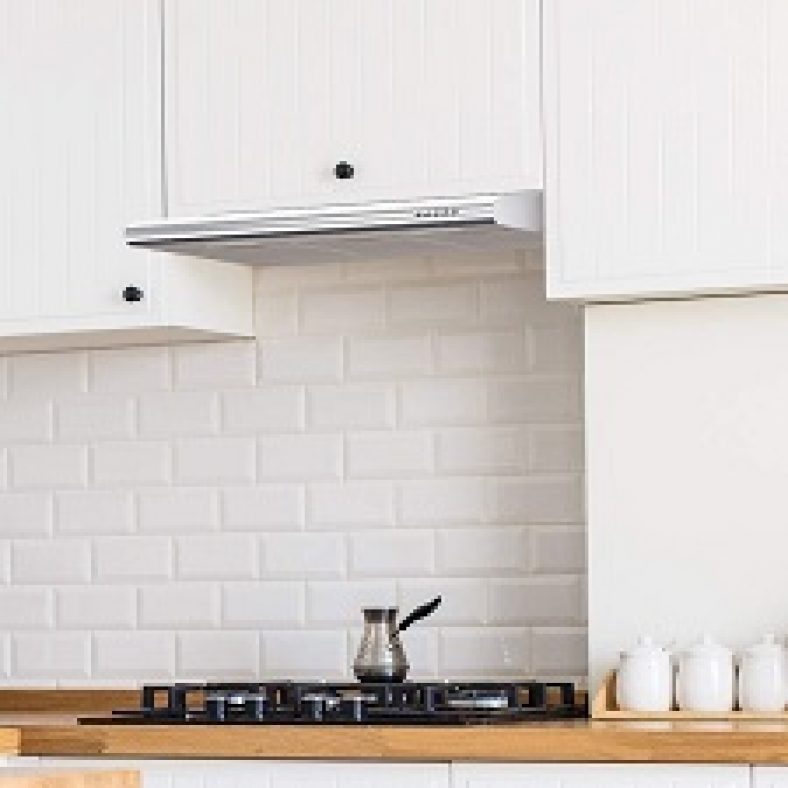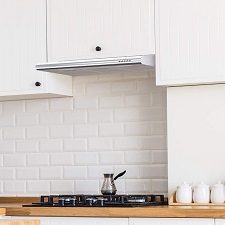 For the fourth option, we recommend this 30 inch Under Cabinet Ductless Range Hood from CIARRA to you if you have a limited budget and want a durable range hood. It's a 200 CFM range hood with a ducted/ductless convertible feature. To get a clean kitchen at a low cost, this range hood is the best choice for all. Let's discuss what CIARRA added to this range hood for you!
First of all, it is a slim range hood of around 29.76″ (W) x 19.7″ (L) x 3.93″ (H). The range hood comes with a 30-inch stove hood with push-button that helps you control the device easily. The range hood is suitable for top venting. It features a stainless steel vent hood for the kitchen with aluminum mesh filters.
Besides, the range hood includes 2 led lights that will be enough to meet your cooking need. It has a 3-speed exhaust fan that will remove smoke and odors effectively from your kitchen. Also, the range hood features ultra-quiet operation. If you have limited space in your kitchen, this range hood will assist you most as it is a space-saving device.
It will save energy but give you a high-efficiency service year after year. The package includes 1 range hood body, a user manual, 1 installation kit, 1 outlet component, an outlet cover, etc. So, considering all of its outstanding features, you can have a try. Your money will be worth it, and you will not regret it!
What we liked:
Powerful fan
Quiet operation
Bright LED light
Easy to install and use
Slim and attractive design
What we did not like:
You have to purchase filters separately
---
---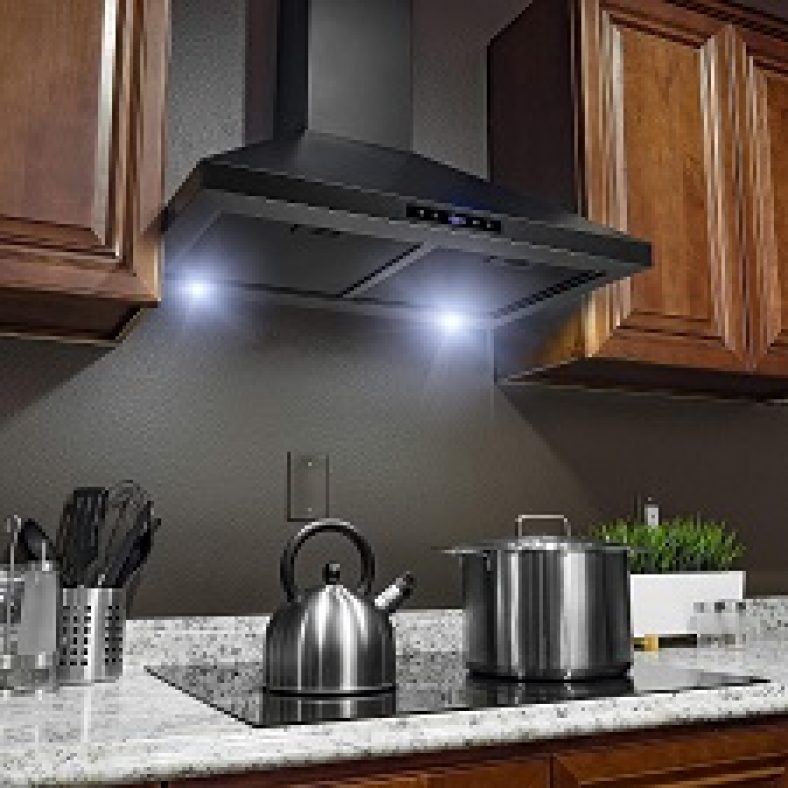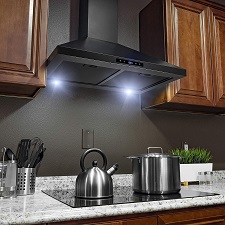 It's natural to search for the quietest wall mount range hood as we never want to be disturbed by its noise during our cooking time. So, if you are searching for the quietest range hood reviews, this Golden Vantage Range Hood is for you. Golden Vantage is a renowned brand and considered as one of the best range hood brands in the world. Let's see what they are offering for you!
It is a wonderful 30-inch range hood with black painted stainless steel. The range hood is designed with a professional motor. Also, it has a 3-speed fan that can reach up to 217 CFM to ensure a noiseless cooking experience. The device is durable enough as made of high-quality materials. It offers you fast service. It has the capability to adapt the airflow according to the intensity of your need.
As mentioned above, the range hood offers a quiet operation; its motor runs no louder than 65db. Besides, it features powerful 2 LED lamps to ensure a bright kitchen. It comes with a touch control panel backlit screen for easy control. You will be happy to know that the range hood includes a digital clock for you!
Let's discuss its filters! It has 2 dishwashers' safe aluminum mesh filters. So, to ensure perfect airflow and efficient ventilation in your kitchen, you can remove it and can clean any grease or smoke stains at any time. You will get a carbon filter kit for ductless recirculating installation, but you have to purchase it separately. So, what do you think? Wanna have a try!
What we liked:
Easy to Clean
Noise-free operations
Aluminum grease filters
Easy to use control panel
Very bright 1.5 W LED lights
Bold Style and Elegant Design
The fan is adjustable at three speeds
What we did not like:
The clock is hard to set
Chimney Sold Separately
What Are the Types of Range Hoods?
---
You may have seen versatile types of range hoods that fit different kitchen interiors. Which type suits your kitchen? To find that out, you must know the available types and functionality beforehand. And, here they are.
Ductless Hoods
One of the most demanding range hoods is the ductless hood, as you can install it almost anywhere, whether it's on the wall, island, or under the cabinet. No matter where you install it, it will effectively remove smoke, heat, fume, or steam from the top of the cooking atmosphere resulting in recirculating fresh air into the kitchen. The range hood comes with a proficient charcoal filter that can remove oil and greasy particles.
Under-cabinet range hood
The under cabinet range hood is installed using ductwork on the wall, ceiling, chase, or soffit. As it will be mounted under the wall cabinet, so it will exhaust the rising fume and smoke outside. If you are thinking about range hood alternatives when your kitchen does not support a regular range hood, this can be your option to consider.
Wall Chimney Range Hood
Some kitchens come with no cabinets. If you need a range hood in such a kitchen, then you can choose the wall chimney hood. These hoods can be installed with an exposed ventilation system. The chimney will evacuate the steam and smell outside the kitchen.
Island Hoods
The island hoods need ductwork in the kitchen ceiling. This hood neither needs a wall nor a ceiling which means it must be specious compared to the cooking surface. Using the ductwork is mounted with a duct, and the ventilation process works in the same way.
Downdraft Hood
The mechanism of the downdraft range hood is to redirect the emerging smoke or fume and exhaust them through the duct. It is usually installed under the floor. The prime advantage of this hood is you can install it anywhere in the kitchen. However, as per most users, the downdraft hood is the least effective in terms of evacuating smoke or fume compared to other types of range hoods.
What Is a Convertible Range Hood?
---
As the name suggests, with a convertible range hood, you can transform your hood from ducted to ductless. However, it is actually a ducted built-in range hood that comes with a charcoal filter. This hood you can convert from ducted to ductless using the recirculating kit that comes at the top of the hood.
Though the convertible range hood inserting process seems easy and smooth, if you are on a limited budget, then purchasing a convertible one might be expensive. Also, the maintenance cost can be an additional expense.
Ducted Vs Ductless Range Hood
---
Certainly, there are obvious differences between ducted and ductless range hoods. If you are wondering which range hood to choose, check out the differences between them discussed below. As you understand the strengths and drawbacks of using both types, you can easily make the final decision.
Ducted Range Hoods
To begin with, in a ducted range hood, you need a duct connection. The duct will capture and evacuate the steam, smoke, and smell from the kitchen and leave them outdoor. As a result, your kitchen will have a fresh and odor-free atmosphere without any oily or greasy particles.
Ductless range hood
As you already know, the ductless range hood requires no duct. Rather, they come with a filtration process that can capture and remove the smell, steam, smoke from the kitchen, leaving your kitchen with fresh and breathable air.
Ducted vs. ductless
From the above description, you can already realize the basic difference between them is duct. There is some kitchen interior that does not support duct, which can be quite difficult to install a ducted range hood.
Besides, there is also a difference in the installation process. In a ducted hood, you need space to install the duct and connect it with the hood. As a result, the ducted hood requires more space, and the installation process can be expensive too. Whereas the ductless range hood is less expensive and easy to install because this range hood vents out the air from the kitchen.
Even though you may find ductless ultra-quiet range hoods, they are usually noisy. At the same time, the ducted ones are considered to be the quietest range hood. Besides, with a ductless one, your kitchen can get humid, which is not the case when it comes to a ducted one.
Well, there are some differences between ductless and ducted range hoods. Considering your budget, kitchen interior, space, and other features, you need to decide which one to go for.
What Are the Must-have Features to Find the Best Range Hoods?
---
To know how to choose a range hood, you must know some of the identifying features to qualify the material. There are plenty of range hood reviews, but not all of them help you decide which one your kitchen needs. Hence, to pick the right range hood from a trustworthy brand, you need to consider the below features.
Cooking Range Area
The first and foremost thing you need to consider is the size of your cooking area because this is where your hood will be installed. When you check the size, you need to make sure the filtration unit covers the burners properly.
Along with the size, you should also pay attention to the height where you will install the hood. Usually, the 30″ range hood is standard and efficient to cover the cooking space. However, for the utmost effectiveness, you should go for a wider hood.
The Mounting Style
Though the ductless range hood requires no duct, you still need to consider the mounting style. Think about whether you need a wall-mounted or ductless range hood under the cabinet.
Usually, the wall-mounted range hoods are preferred mostly by the users and are widely available in the market. You may need to remodel the area where you will install the range hood. However, the under cabinet range hoods are very easy to install and require minimal or no remodeling.
Build Quality
As you are sure of the size and mounting style of your range hood, the next thing you need to pay attention to is the build quality. You may find a range hood in diverse materials, but the stainless steel range hoods are thick and durable to sustain for years. This material is also easy to remove grease and smoke.
Air Circulation System
It's time to look into the mechanism of your targeted range hood. The most important part of the range hood is the airflow system. It will determine the performance of your range hood. So, when you are choosing a range hood, make sure the hood comes with a powerful motor that can properly recirculate the air just as your kitchen requires.
CFM
By CFM, you will be able to understand the power of the fan in cubic per minute. The higher the CFM number, the efficient and powerful airflow you will get. It means using the filtration system; the fan will evacuate the steam, smoke, or odor faster and recirculate fresh air in no time.
So, when you are checking CFM, make sure it at least comes with 300 CFM. It's the minimal number for most kitchens, but you can go for higher CFM for the most efficiency based on your need.
Speed Adjustment Facility
The next thing you need to think about is user-friendliness. Because in the kitchen we often cook diverse types of food that sometimes cause a lot of smoke or steam. Hence, if your range hood comes with a fan adjusting facility, you can adjust the airflow depending on the level of ventilation you require. Therefore, after the CFM, you should also look into fan speed adjustment facilities for better performance.
Filtration System
Another most important feature you must pay attention to is the range hood filter. If the filter is not good and does not come with proper CFM, then your investment in range hood can go in vain. Usually, the ductless range hood comes with an aluminum mesh filter or charcoal filter. Both the filters come with grease filters as well.
However, the charcoal filter is effective for removing grease, smell. On the other hand, the aluminum filter is efficient for removing pollutants from the kitchen atmosphere but less effective for grease and smell. Besides, both of them are easy to reuse, clean, and suitable to use on the dishwasher. So, choose the filtration system wisely as per your need.
What Might Happen If You Don't Consider the Features?
---
At this point, I am certain that you have seen many ductless under cabinet range hoods. You may also agree it's easy to get confused with hundreds of products with some amazing features and qualities. What do we do at this point? We pick the one that our eyes choose, or we don't buy at all.
But, what is most important is you need a range hood, and it must be appropriate for your kitchen. Hence, to help you keep on the right track and make the educated decision, you should focus on nothing but the above-mentioned must-have features. Because people often go for the ducted range hood because it's noise-free and assures proper air recirculation.
However, they are expensive and require remodeling too. Hence, to minimize the cost and pick the best product from the best brand, you must focus on the must-have features while purchasing the ductless range hood for your kitchen. If you don't, then you may need to pay the additional expense in case your purchased range hood doesn't fit your kitchen.
Also, the wrong size of the range hood with low CFM may not give the desired performance leaving your kitchen greasy and scented, which will make the situation worse. Hence, to make the best investment on your money on a ductless range hood minimizing the risk factors of choosing the wrong one, you must pay attention to the key features before purchasing.
FAQ
---
Q) Do ventless range hoods work?
Answer: Well, yes, a ventless range hood works. However, a vented recirculating range hood ensures proper ventilation removing the grease, odor, and smoke, then recirculate fresh air. With a ventless one, the filter leaves grease or smoke from the air to some extent, but it's not really effective.
Final Verdict
At the end of our best ductless range hood reviews. We tried our best to provide you with detailed information on the ductless range hood. I hope you have enjoyed this article and already got your desired range hood.
If you have any further inquiries on ductless range hoods or you think any info is missing from our review, please don't mention them in the comment section. Best wishes to everyone!
You May Enjoy The Following Links As Well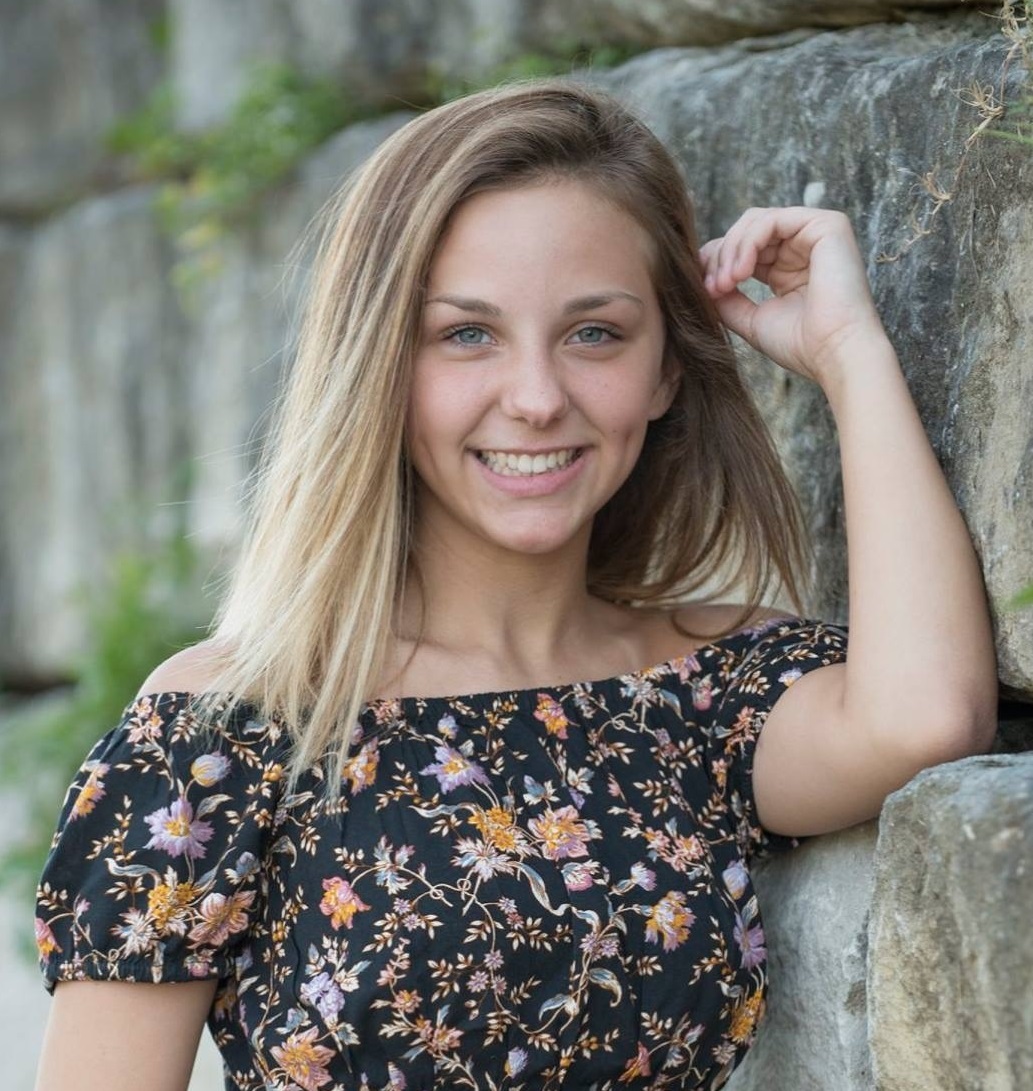 I am an avid fashion designer with a passion for making my house a home. I love to collect the necessary things of a home and this is where I share with you my experience. I am currently working as the chief editor of TheProudHome.com. I'd love for you to join me on my adventures!