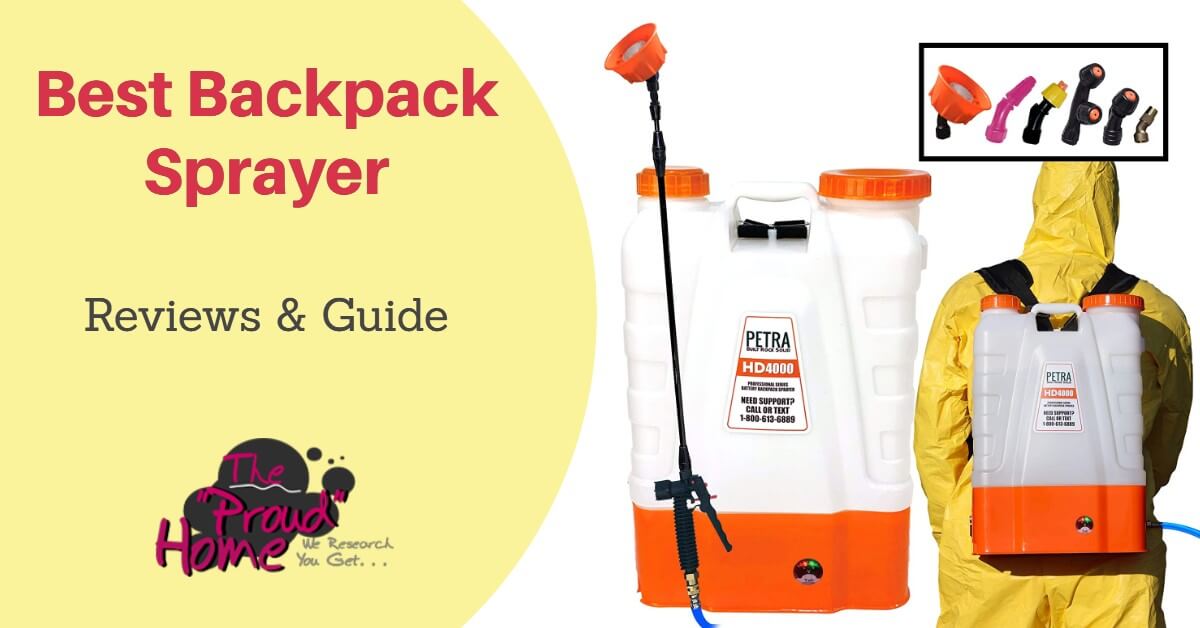 Growing your fruits, vegetables, and flowers in your backyard or lawn is blissful and taking care of those precious plants gets even easier when you have the best backpack sprayer.
Truly, who doesn't love plants? The only fact that refrains plant lovers from gardening is the hectic care for pest and insect control. Certainly, doing this job manually is not only time-consuming but also tiring. Hence, to give you a more enjoyable experience from gardening, here comes the innovative garden sprayer.
You will be amazed to know that such sprayers come in wide varieties at an affordable price for your convenience. Since it's not easy to find which sprayer will be best suited for you, I have chosen the 7 best backpack sprayers for an intensive review.
Trust me! They are very easy to use and portable. You don't need to be a professional gardener to operate this amazing tool. So, are you eager to know which is the best backpack garden sprayer? Then, wait no more!
Top 3 Backpack Sprayer in 2022
In a hurry? These 3 are the Best Backpack Sprayer in 2022:
What Is a Backpack Sprayer and Why Do You Need It?
---
Though a lot of the users already know what a backpack sprayer is, here I would like to discuss its basics for profound understanding briefly. To simply put, a backpack sprayer is a multipurpose tool.
This sprayer comes with a backpack tank, pump, and a sprayer with nozzles. The tool is super handy that you can carry as a backpack and spray solution to the places you need. The purpose of using this sprayer is to fertilize the garden or spray pesticides and other chemicals.
Also, using this sprayer, you can comfortably spray to the places where you cannot normally reach. Hence, it will ensure your garden area is insect-free and thoroughly fertilized. As the innovative pump sprayer has been widely accepted by users, it now comes in wide variation as well.
Considering your garden size, now you can find backpack sprayers, you can now find manual sprayers, electric backpack sprayers, rechargeable backpack sprayers, and commercial pump sprayers.
Best Backpack Sprayer Comparison
| Image | Name | Summary | Our Rating | Get It |
| --- | --- | --- | --- | --- |
| | Field King 190328 Backpack Sprayer, 4 Gallon | Covers a large ground. Comes with a built-in agitator. Includes four different nozzles. High pressure reaches tough spots. Adjustable padded shoulder straps. | | Check Price |
| | M4 MY4SONS 4-Gallon Battery Powered Backpack Sprayer | Adjustable spray nozzles. Heavy-duty shoulder straps. High quality designed handle. Capable to spray 6-8 hours on a single battery charge. | | Check Price |
| | Chapin 61500 Backpack Sprayer | Dual filtration system. Requires very low maintenance. Padded shoulder straps for comfort. Features 4-gallon translucent tank and 4-inch mouth opening. | | Check Price |
| | PetraTools 4 Gallon Battery Powered Backpack Sprayer | Easy to fill. Easy to drain. Multiple nozzles. It has two wands. 5-gallon capacity. Comfortable to use. Long-lasting battery. | | Check Price |
| | Cardinal 3.5 Gallon Backpack | Powerful motor. 3HP 2-stroke engine. It has a durable fuel tank. Lightweight so easy to carry. Can cover 1 acre in 30 minutes. | | Check Price |
| | HUDSON 19001 4 Gallon NeverPump Bak-Pak Sprayer | Easy to fill up. Comfortable to carry. 4-gallon transparent tank. Quick charging & long spray time. Comfortable and ergonomic design. High-performance rechargeable Li-ion battery. | | Check Price |
| | KIMO 3 Gallon Battery Powered Backpack Sprayer | Fast charge. It's easy to use. Very lightweight. Ergonomic design. Two wands included. Easy to assemble and operate. Up to 6 hours of use on a single charge. | | Check Price |
7 Best Backpack Sprayer Review
---
If you are wondering which backpack sprayer would be worth investing in, then this write-up is for you. After hours of intensive research, I could pick up the products that are not only reliable but also highly recommended by users.
Considering the must-have features, quality, performance, and durability, these products are a good deal. Hence, in this review, I have chosen the 7 best sprayer money for you to choose from. This review will contain only honest information and analysis so that you can easily understand which sprayer will be suitable for you.
---
---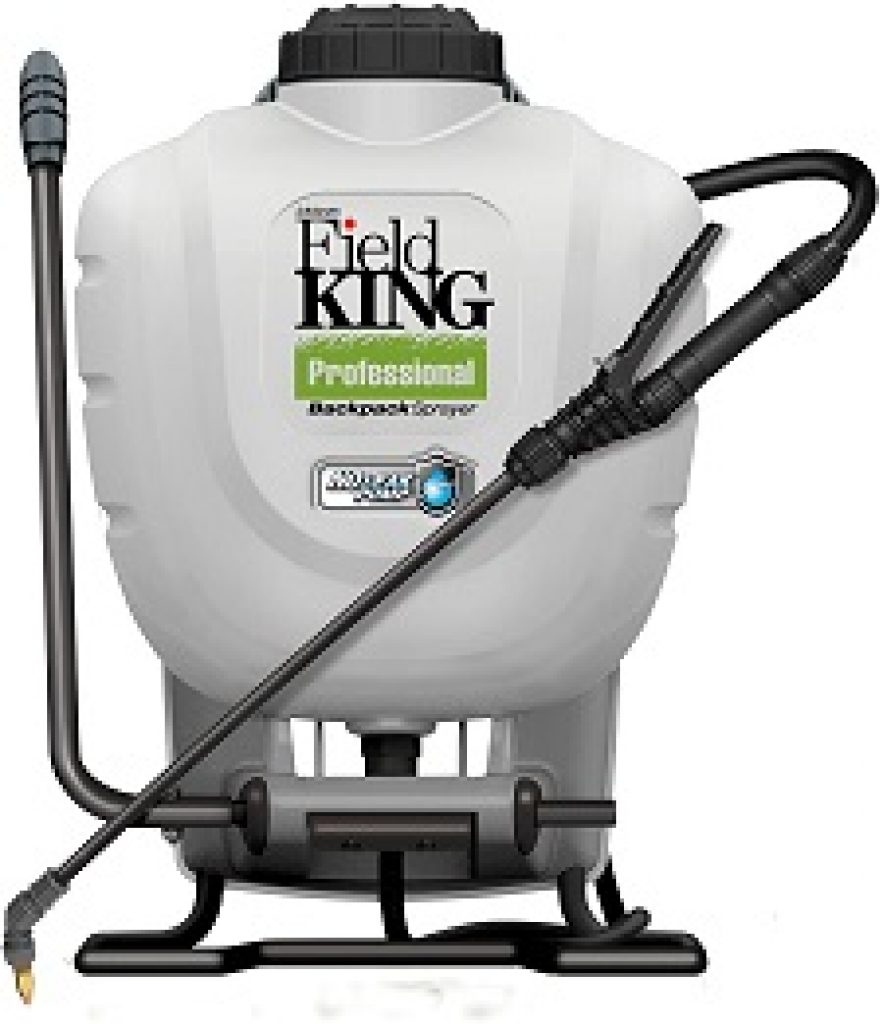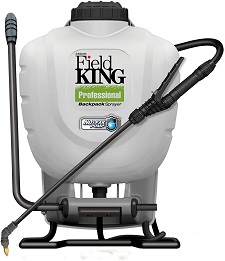 In case you are not aware, D.B. Smith manufactures one of the best premium backpack sprayers. The most significant feature of this sprayer is, you can use it as both a piston and diaphragm backpack. Since users use it as a backpack fertilizer sprayer or chemical sprayer, safety is one of the major concerns.
Considering this matter, this sprayer has been designed with an internal no leak pump and lockable shut-off system. Therefore, when you carry it, you can spray the solution without worrying about dripping it. And, for greater performance, the piston pump can deliver up to 150 PSI. Not only that, the sprayer, along with the backpack, is built to last.
How? The important part of a sprayer is the wand. And, in the case of the Field King sprayer, the wand is not only 21 inches long but also made with poly material. The Viton seal on the want also gives you the freedom to use wettable powders and liquid solutions.
Additionally, as you purchase the package, you will get four types of nozzles that you can easily change and apply. The filtration basket with the backpack will help you to remove the debris while inserting the filling easily. Hence, these qualities make this the best field king backpack sprayer.
What we liked:
Easy to use
150 psi pump
4 nozzle system
It covers a large ground
Includes four different nozzles
It comes with a built-in agitator
High pressure reaches tough spots
Adjustable padded shoulder straps
What we did not like:
No pressure gauge
Considerably heavy when the tank is full
---
---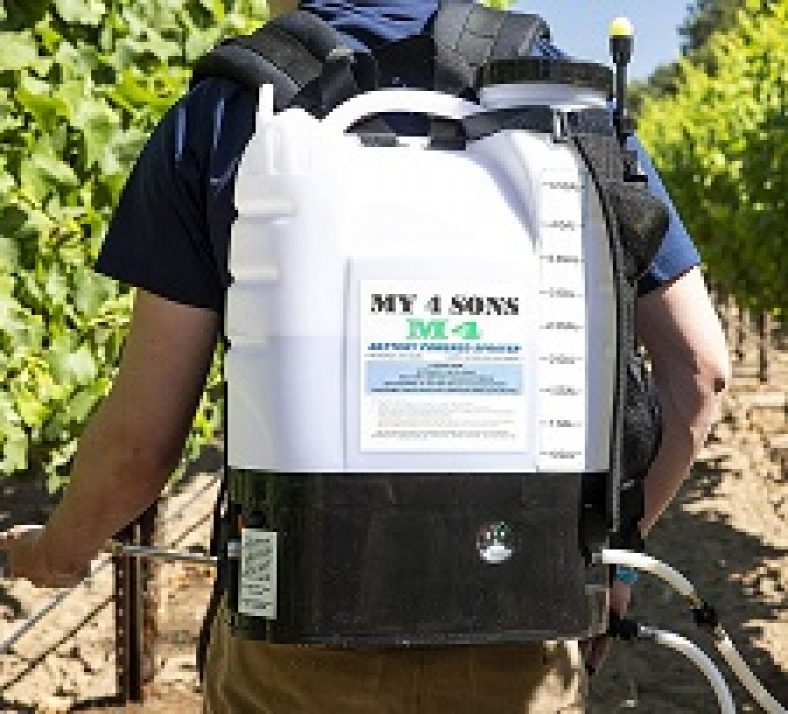 Are you looking for the best battery garden sprayer? Here it is! Check out one of MY4SONS best 4-gallon backpack sprayers for your garden. The battery is super powerful in that it can spray up to 6 to 8 hours with a single charged battery.
It means you can use this sprayer not only for your garden but also for commercial purposes because it can serve you all day long, and you don't need to worry about pumping. Also, there is a variable pressure control switch that will help you to control the flow up to 60 PSI.
To be precise, this is an amazing versatile sprayer you can use for diverse jobs apart from gardening. This sprayer is suitable for almost any job, including pesticides, herbicides, deck stains, and concrete sealer. The sprayer comes with a wide-mouthed stainless steel and acid bleach wand and brass nozzle.
The wand is not only durable but also adjustable with a locking mechanism. You can safely use this sprayer for hard-reach areas without any hassle. Also, for your comfortability, there is a heavy-duty strap that you can carry on your shoulder.
So, if you need the best stainless steel spray with a wide range of attractive features, then this M4 MY4SONS battery-operated sprayer can be your ideal choice.
What we liked:
Easy to use
Extra-long wand
Pressure dial pump
Adjustable spray nozzles
Heavy-duty shoulder straps
High quality designed handle
Capable to spray 6-8 hours on a single battery charge
---
---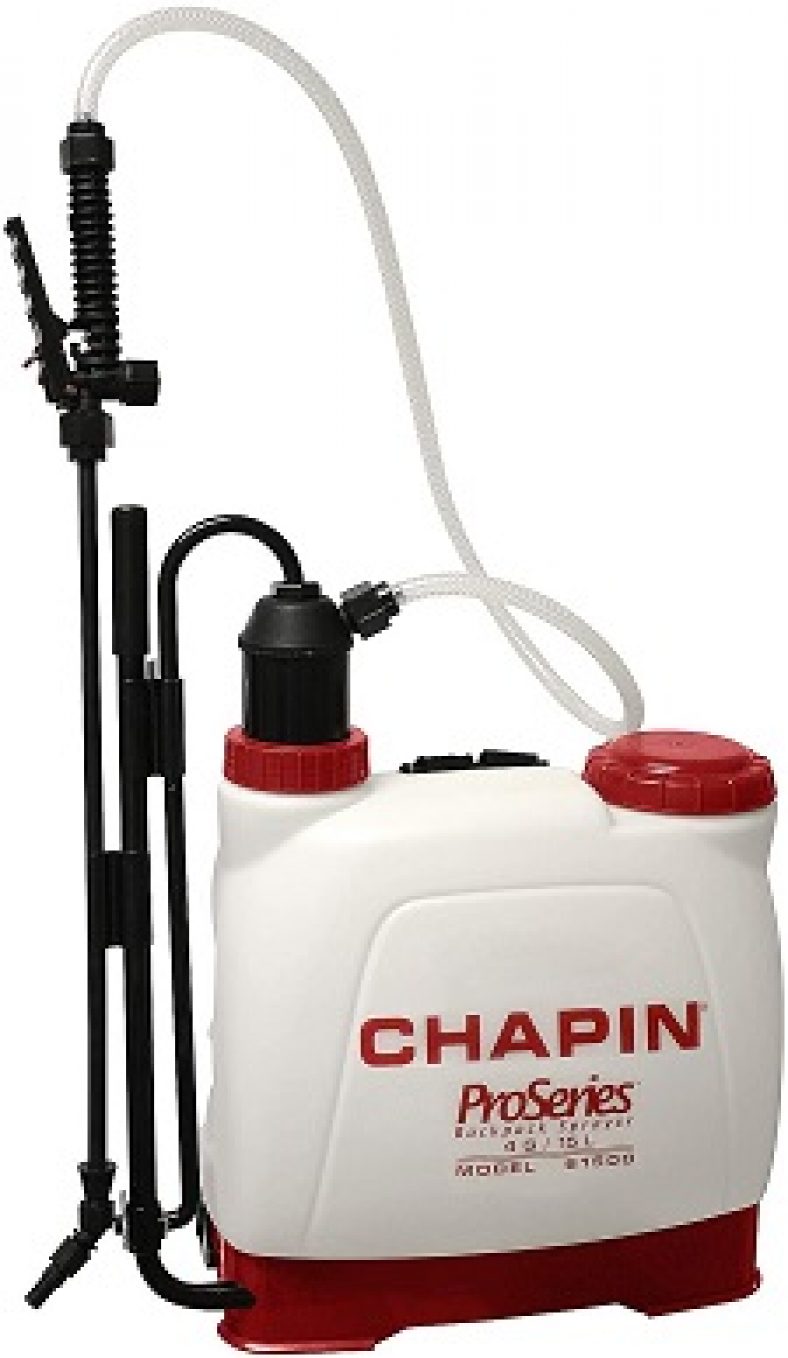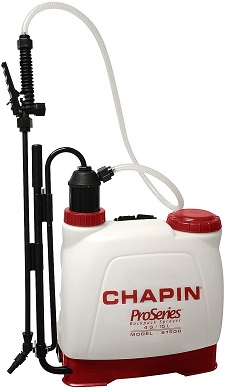 Amidst the wide diversity of backpack sprayers, users who look for the best overall backpack sprayer tend to struggle. If you are one of them, then you can check out this Chapin sprayer. Chapin is a USA brand that is famous for sprayers for manufacturing commercial, industrial, residential purposes. It's quite an old and experienced brand that has been flourishing in this business.
To talk specifically about this backpack sprayer, it comes with a classic design with all the advantages you need. The tank is translucent so that you can see the fluid level during usage. Additionally, the filling process is super easy, and the two-stage filtration system assures clog-free pouring.
The Viton sealed sprayer also comes with two types of nozzles which you can use for various types of products including fertilizer, weed, and pesticide killer. You can adjust the spray pattern if you like.
Additionally, the backpack sprayer is also easy to clean and comfortable to carry. The features not only make this the best Chapin backpack sprayer but also it's one of the best backpack weed sprayers in the market.
What we liked:
Well built
Affordable​ price
Dual filtration system
Easy to use and clean
Requires very low maintenance
Padded shoulder straps for comfort
Features 4-gallon translucent tank and 4-inch mouth opening
---
---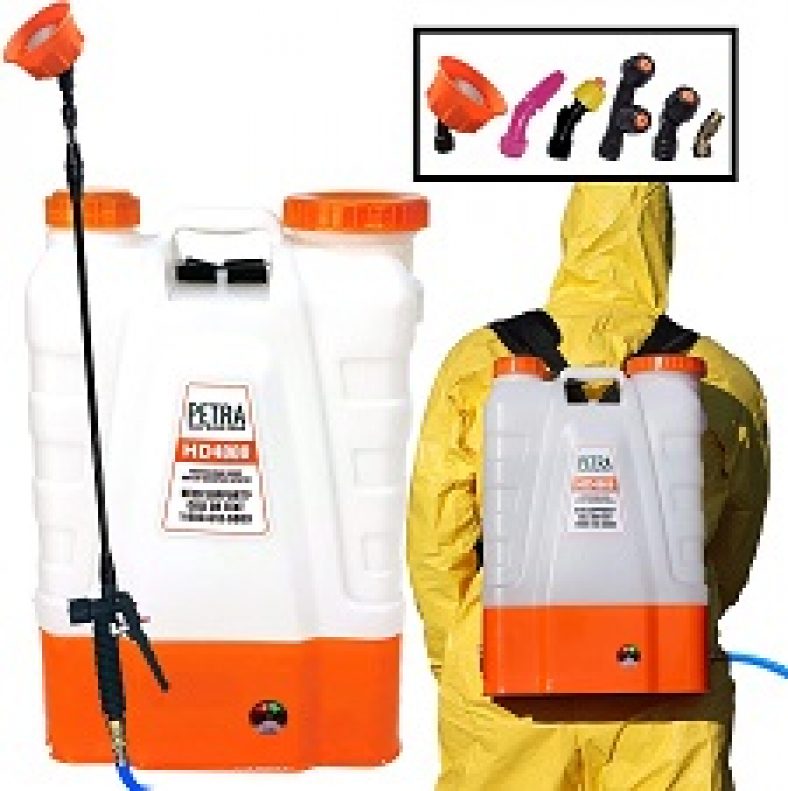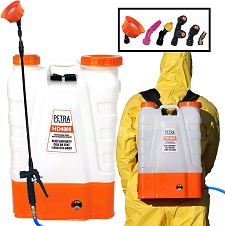 Petra Store introduces this amazing multipurpose sprayer with long battery life. Once the battery is charged, you can carry it anywhere to use. Because the battery can serve you around 8 hours long without the need for recharging.
Unlike most sprayers, it comes with an HD plastic acid bleach wand with a wide mouth lid. So, you can easily fill the tank in less time. Additionally, this wand can spray up to 15 feet; not only that, but you can also adjust the pressure level with the adjustable knob.
Moreover, there is another lid for storing the nozzle. So, whichever nozzle you need, they are right near your hand. Also, you can use any kind of chemical in this sprayer for your lawn or garden.
So, the Petratools sprayer is easy to use and carry. Thus, you can consider it as another best battery-powered backpack sprayer for you to compare. Also, you can evaluate its quality with other battery-operated sprayers before making the purchasing decision.
What we liked:
Easy to fill
Easy to drain
Multiple nozzles
It has two wands
5-gallon capacity
Comfortable to use
Long-lasting battery
What we did not like:
The sprayer is slightly heavy
---
---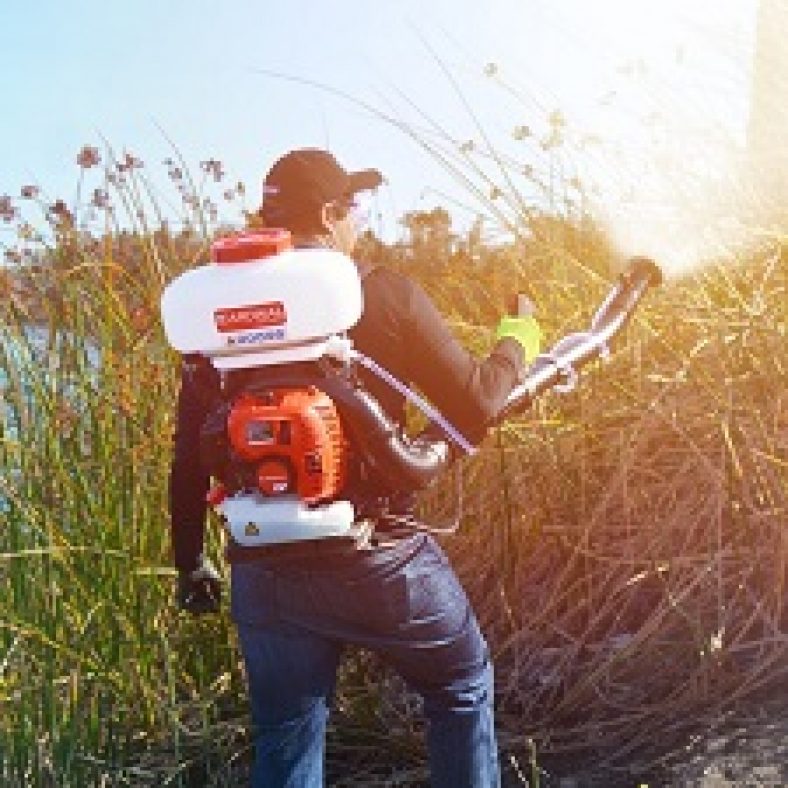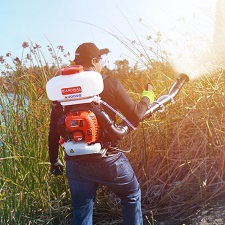 Cardinal brings this extraordinary backpack sprayer you can use for disinfecting and mosquito pest control. If you think a 4-gallon sprayer is too heavy for you, then you can check out this 3.5-gallon sprayer for your convenience. The most significant aspect of this tool is, it's seven times faster than any manual-operated sprayers.
It comes with a 3HP 2 stroke engine which covers a 1-acre area in less than half an hour. The reach of the wand is 30 ft, so you can easily reach the hard place along with the top and bottom of the plants from a distant position.
Not only that, you can control the droplet size from 50-100 microns, considering the area you are disinfecting. The Ultra-Low Volume technology can treat pests, mosquitos, and other germs in residential, commercial, and public areas. More importantly, it's also eligible to control deadly viruses like Zika, ticks, spiders, mites, flies, and dangerous viruses and germs.
Since the sprayer is recommended to use in large areas, it must have a powerful operating system, fuel efficiency, and comfortability. Thus, the sprayer is designed with a 3HP engine and is lightweight for commercial use. Hence, the large coverage capacity and innovative features make it compatible with the best commercial backpack sprayers.
What we liked:
Powerful motor
3HP 2-stroke engine
It has a durable fuel tank
Lightweight so easy to carry
Can cover 1 acre in 30 minutes
What we did not like:
Not suitable for a small area
---
---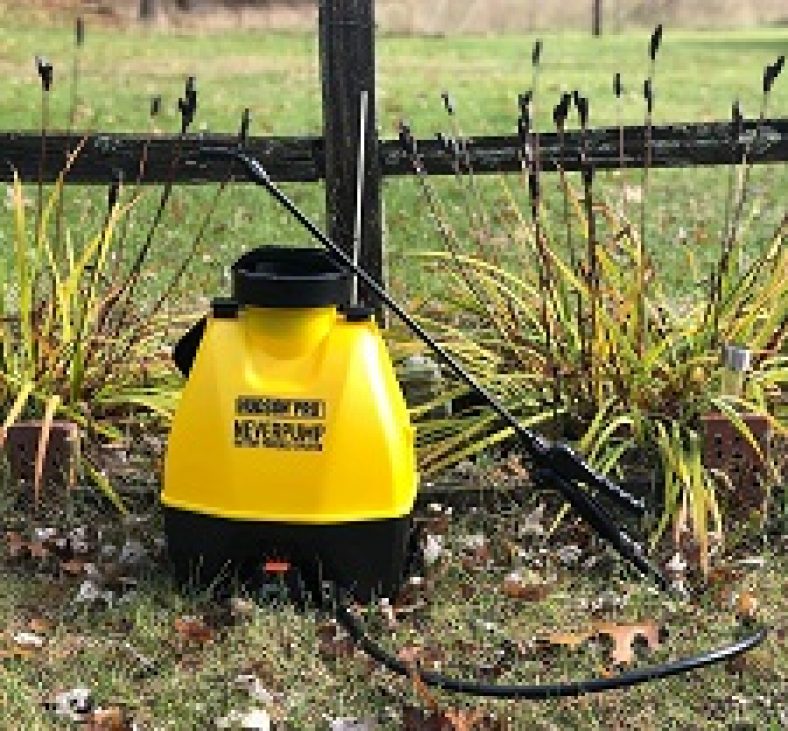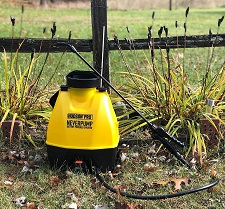 Let me introduce you to one of the high-performing sprayers from Hudson Store. This top-selling sprayer comes with a rechargeable and removable lithium-ion battery. The most significant advantage of this sprayer is you can easily recharge and remove the battery in less time.
Also, the powerful battery, the sprayer, comes with a durable nozzle system. You can use this nozzle for stream spray, dual mist, fan, and shower pattern. Also, for long-time use, the sprayer comes with a shut-off valve that locks the sprayer during continuous use.
Moreover, the tank has a large capacity which you can fill easily and use the solution for hours. The tank also comes with a removable filter that keeps the chemical safe from debris. So, you can fill the required solution every time without ruining its quality.
Such a large backpack sprayer needs to be comfortable to carry. The manufacturer also feels the need. Hence, the backpack comes with cushioned ergonomic straps and adjustable pads. The overall design and the feature of the product make it comfortable and user-friendly for easy gardening.
What we liked:
Easy to fill up
Easy to assemble
Comfortable to carry
4-gallon transparent tank
Quick charging & long spray time
Comfortable and ergonomic design
High-performance rechargeable Li-ion battery
---
---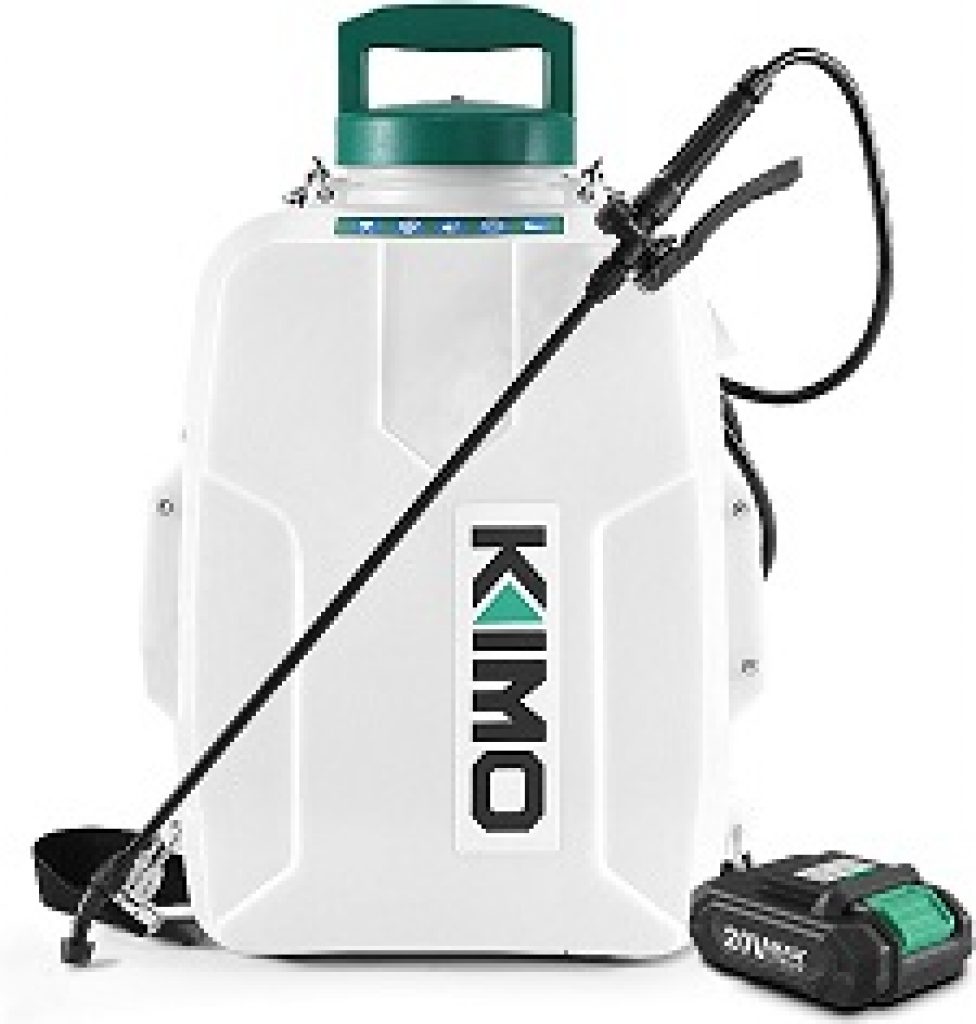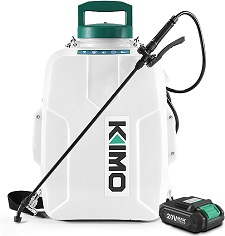 My 7th sprayer is one of the strongly recommended and the best all-round backpack sprayers. This sprayer comes in a convenient size and is suitable to use for more than just pest control. It's a battery-operated sprayer that comes with a powerful KIMO 2.0AH battery.
The battery itself ensures break-free and even performance for a long time spray. For the users' convenience, the sprayer comes with a lockable switch. You can control the switch in your handgrip; hence your hand won't feel numb. You can also adjust the pressure from 40 PSI to 70 PSI.
The versatile PSI makes the sprayer eligible for fertilizing, weed killing, and multi occasions. This multipurpose sprayer also comes with a large tank with a wide mouth for easy filling. Moreover, each part of the sprayer is made with durable material.
As you purchase, you will get adjustable plastic and metal wand and versatile brass nozzles. The nozzles can be used for extensive coverage and twist for spot spraying. Overall, the features, built quality, and performance make it a residential and professional backpack sprayer. Therefore, it's one of the best backpack sprayers for weeds, fertilizer, cleaning, watering, and other purposes.
What we liked:
Fast charge
It's easy to use
Very lightweight
Ergonomic design
Two wands included
Easy to assemble and operate
Up to 6 hours of use on a single charge
FAQ
---
Q) What is the best spray pattern to use?
Answer: There is quite a variation when it comes to spray patterns. It's the users' discretion which pattern they require. Also, the pattern depends on the type of nozzle you use. However, for gardening, you can choose from flower patterns, shrub patterns, or soft wash.
Q) What to use to clean out a backpack sprayer?
Answer: Before you clean the backpack sprayer, it's extremely important to follow the instruction manual. Also, cleaning this tool is very easy. You can use clean water, a cleaning solution, or a commercial tank cleaner.
Q) What is the ideal psi for a backpack sprayer?
Answer: The PSI of a backpack sprayer may vary depending on the size. The range is from 40 PSI to 150 PSI. For a good quality sprayer, the average PSI should be 70 PSI.
Q) Where can I purchase a backpack sprayer?
Answer: You can find backpack sprayers from an online platform or market. For your convenience, you can check out and compare different qualities of the item from Amazon. They have a wide range of available sprayers too.
Q) Is it better to use a sprayer with a motorized pump?
Answer: It depends on the users' convenience. If you need a portable backpack sprayer, then a battery-operated sprayer will be convenient. And, if you are using the sprayer for your garden, then you can use a motorized pump to avoid for a long time use.
Final Verdict
Here I end the review of the 7 best backpack sprayers. I hope you have found this piece of article informative and useful. It's time to make the purchase. Before you do so, make sure your targeted backpack sprayer comes with the must-have features you need.
Happy Gardening!
You May Enjoy The Following Links As Well