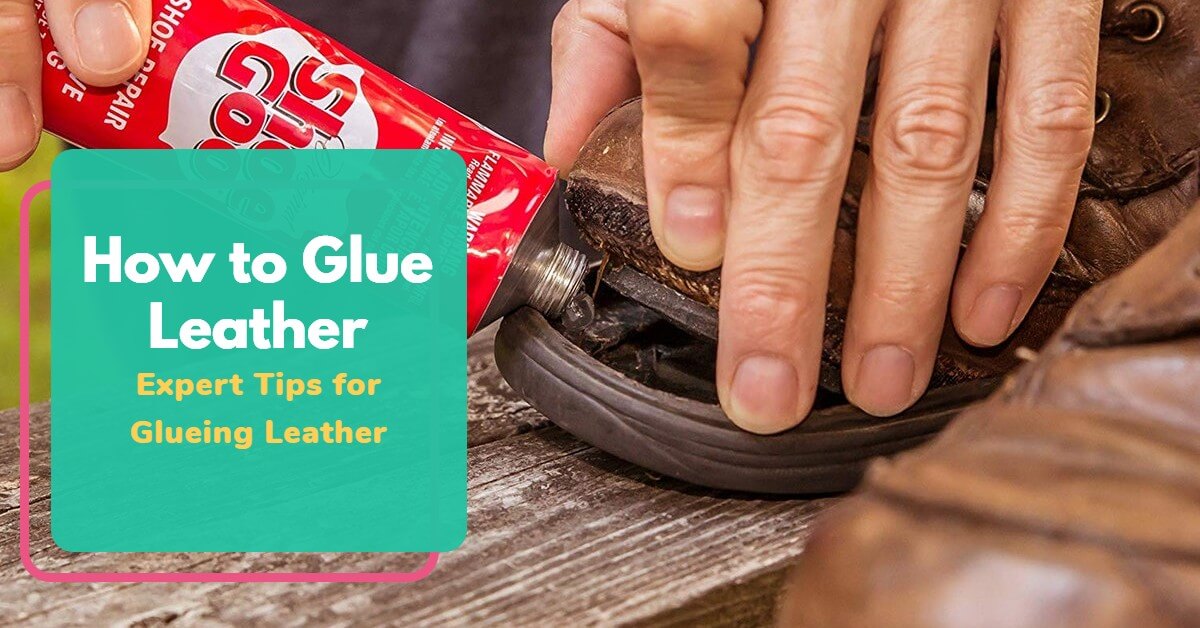 No more frown over torn leather clothes! Now you can repair any leather items if you can pick the best glue for leather. Actually, picking the best as well as the right glue for the selected item is tricky.
Why? Well, because now you can find different types of leather bonding adhesives, and the popular ones are gorilla glue, Loctite super glue, Loctite shoe glue, and multi-purpose adhesive glue, etc.
Besides, picking any random adhesive for leather will not give you a satisfactory result. Because along with the different types of adhesives, there are types of glue to repair leather. Such variation and diversity can confuse you in finding the right one, and using any random glue can also ruin the leather material.
Hence, before explaining to you how to glue leather, let me give you some brief but necessary details that will help you glue any leather material perfectly.
What Is Leather Glue?
---
Not all glues are leather glue. Most users try to use adhesives or super glue when it comes to repairing or attaching leather material. However, they can actually ruin the piece before they know it.
So, it would help if you were careful about picking the right glue. Before you purchase the glue, pay attention to the aspects of leather. It should be strong and long-lasting.
Besides, you need to pick the glue made suitable for this material, and at the same time, it has the efficiency to glue pieces together strongly.
If you explore the market, you will see various types of glue for leather. But, depending on what specific leather item you need to attach or repair, you have to choose accordingly. If you ask me which one is the strongest glue among all, it's the rubber cement for leather.
This glue is powerful and can get messy to use. Besides varying the materials, there are different types of glue, such as glue for leather bags, glue for leather shoes, leather glue for wood, and so on.
So, no matter what item you need to glue, you need to pick the right glue for leather repair, whether it's leather shoe glue, bag glue, or chair repair.
How to Glue Leather?
---
When it comes to leather repair, people tend to pick the glues that are in their hand reach. And one of the most popular and widely used glues is leather glue, contact cement, or super glue.
However, among them, super glue is a common product most users have at home. Often they ask, "does super glue work on leather items such as bags, shoes, wallets, or clothes?'
Well, super glue can be a common all-purpose glue. But, certainly, super glue cannot be the perfect leather glue for all types of leather items. In fact, it won't give you the finish you expect!
And if you are a novice and using such glue for leather, you can certainly struggle or damage the product. Hence, it's important to pick the right glue, depending on what you are going to repair.
So, before picking the glue for leatherwork, you not only need to find the strong glue but also pay attention to the material you are going to apply on.
Because, even if you have the best leather glue in hand, it may not serve the purpose. Also, the process of repairing differs depending on the items you are repairing. Having said that, here, I am going to discuss the process of gluing leather elaborately.
Step 1: Identifying the material
---
Before you pick and apply the leather adhesive on the item, first think about what material you will attach with leather. It can be leather to leather, leather to wood, or leather to any other materials. So, think beforehand and plan accordingly.
Step 2: Things you need
---
Leather material or item
Paper towel
Clamps
Right leather bonding glue
Step 3: How to glue leather
---
As the process of gluing leather with different items varies, hence, here I am going to show you how to apply leather adhesive glue to vary the material.
How to glue leather to leather?
---
If you intend to glue leather to leather, then pick any good glue for leather.
Make sure the pieces are in proper shape and size before applying the glue.
Then, apply glue on one part of the leather.
And stick the other part of the leather on the target spot.
Before it gets dried out, adjust the pieces if you need them.
If the pieces are small and you need to hold them together for a strong bond, then you wrap the glued section in a paper towel and use small clamps and let them dry completely.
You are done!
How to glue leather to wood?
---
Now you can also repair your leather furniture. You need to pick the best glue for leather repair, especially furniture because gluing leather to the wood is tricky. Since leather and wood are different materials, you need to choose the glue that will ensure the best bond.
Usually, for gluing leather on wooden furniture, contact cement is the highest performing glue. So, before applying glue, rub the flesh part of the leather with sandpaper. Then, using a foam brush or glue applicator, apply contact cement and let it dry for a while till it's tacky.
Once it's a bit tacky, apply another layer of contact cement and let it dry to become tacky again. Then, place the leather on the wood and press strongly so that the pieces get fully attached to the wood.
You can use a hammer to apply proper pressure on the glued part. Then, leave the material until the glue properly cures.
How to glue leather to metal?
---
Gluing leather on a metal item can be struggling because the type and texture of the materials are bipolar. However, you can still do it.
To attach leather on metal, you can use superglue leather or gorilla glue for leather, depending on what type of bond you need. If you want a permanent bond, then you can use superglue on leather to attach with metal.
Nevertheless, if you are confident about using contact cement and need to remove the attachment after a while, then go for it.
How to use leather glue for shoes?
---
Shoes are wearables, and you cannot make any mistakes while repairing them. Hence, you must pick the best glue for leather shoes from contact cement or rubber cement. Then apply the glue following the traditional process.
Rubber cement gives the strongest bond. But, make sure you don't spill glue on any other part of the shoe.
Tips
---
Usually, most leather adhesives are flexible glues. If you are using super glue or contact cement, you cannot adjust the pieces once applied. So make sure the pieces are properly in shape and be careful after you attach the leather piece.
If you are using clamps to hold leather pieces together, you should wrap them around with a paper towel. Otherwise, the clamps can leave a permanent indentation on the leather.
If you intend to glue leather for sewing, make sure you put a generous amount of glue on the leather because excessive glue can make it difficult to sew or create a hole.
Please, make sure the grain side of the leather doesn't get glue. It can leave a permanent mark, and you cannot remove them later on.
You should always check if you are choosing the right side of the leather to glue. Choose the flesh side of the leather to attach. Because no matter which strongest glue for leather you are using, the grain side of the leather won't get attached.
Do not forget to wear gloves when you are using contact cement. Because removing contact cement from the skin can be difficult.
---
Know More About Glue For Leather
---
Now you know the step-by-step way to glue leather. We hope you already have a strong glue for leather or you are researching before buying it.
If you haven't bought it yet and want to compare the quality and price of some top products on the market, you can check the top 3 items below.
So, how were the top three collections? Did you find yours? If yes, then congratulations! But, if not, then you have an option to compare more products before making the final decision.
You can check out our top ten best glue for leather review with a handy comparison table.
Final thought
This is so far the process of using glue on leather materials. Hopefully, now you can assume the different techniques of how to glue leather on various types of leather materials.
Whether it's leather to leather, leather to wood, or leather to metal, all you need is to pick the right glue and carefully apply them. You should also read the instructions on the label of the glue before using it. Well, the process is not easy but tricky.
With patience, practice, and right glue now, you can repair any leather materials you want! Don't forget to share your gluing experience with us!