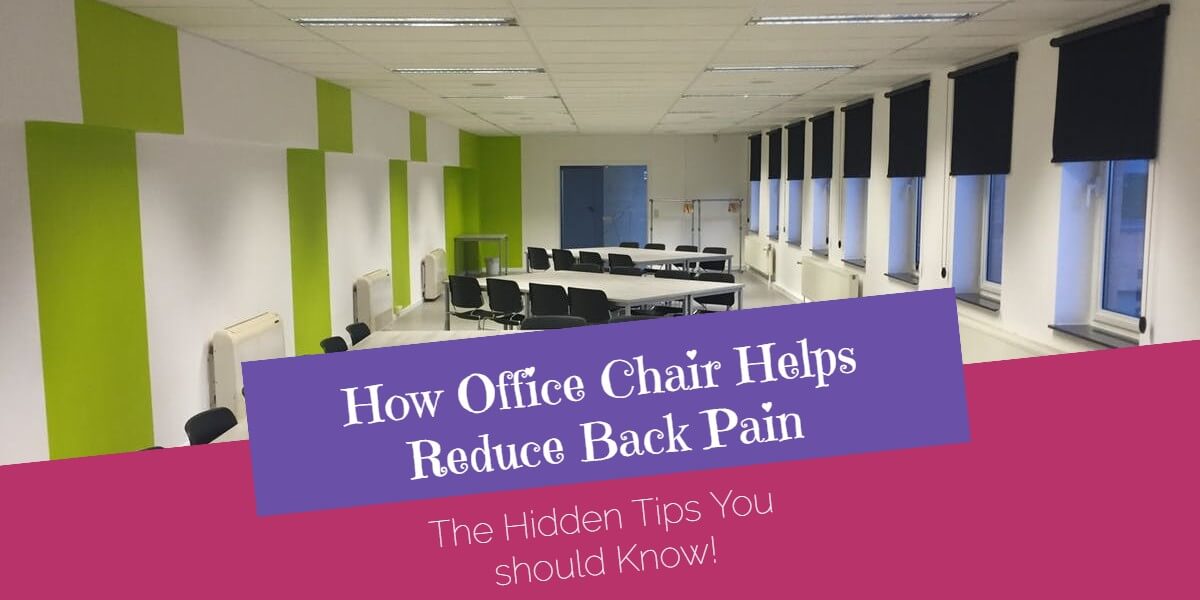 Back pain is a common issue, especially for those who have to work sitting in a chair for a long time. Are you one of them? If yes, then we are in the same category!
However, do you feel pain when you try to stand straight? Or, does it seem challenging to stand after sitting for a long time?
No worries, stay calm and relaxed. I'm here to help you. Reading this article, you will get the easiest way to solve the problem. Here, I am going to discuss some tips and tricks to get rid of back pain by using the best office chair.
Also, I will let you know how office chair helps reduce back pain. Just pay attention to my article afterward. I hope it will be of much help to you.
How Office Chair Helps Reduce Back Pain
---
Seat height
---
An office chair should have an adjustable seat height. We should sit with our feet flat on the ground.
We have to make sure the seat height is appropriate for our desk or workstation. The exact height of the seat will reduce back pain.
---
Seat depth
---
We have to sit with full back support, and our knees should touch the seat edge. If it doesn't happen, then the seat is deep, which may lead to back pain. So, choose the best office chair, which has a seat depth of around 1.5-2 inches.
---
Adjustable Armrests
---
The armrests of an office chair should allow our arms to rests comfortably. Armrests take away some of the strain from your upper spine and also help to reduce back pain. Sitting on an armrest-free chair can lead to neck and shoulder pain.
---
Back support
---
We should sit at a 90-degree angle, and our bottom should press opposite to the back of our chair. Most of us don't know how we can reduce back pain by using office chair back support.
Well, the lower back support of a chair is significant to reduce the pain in our back.
Both of our upper and lower back should be supported all the time. Therefore, the office chair we sit in must-have back support. Otherwise, you will get more pressure on your low back part as well as in the spine.
---
Eye-level
---
We should point our eye gaze in the middle of the computer or laptop screen. If the screen is upper or lower than our gaze, we should adjust it to reduce the back pain.
Never look in front of the computer screen, leaning forward. It will increase the stress on our spine and shoulder. We know that keeping the viewing distance from 24 to 25 cm is helpful for our eyes.
Useful Tips and Tricks to Reduce Back Pain
---
Use a footrest if needed
Avoid lifting heavy objects
Keep knee and foot in a right angle
Sit 10-degree forward, which is a good sitting posture
Our mouse and keyboard should be in the right place on your desk
Don't work for more than 30 minutes continuously. Have a break after every 30 minutes
Office Chair for Heavy Persons
---
Most of the office chairs are capable of supporting nearby 250 lb. But, what about the heavy people who are more than 250 lb.? Can't they use an office chair? They definitely can!
Because there are some specialized office chairs for them, all they need to do is check some parameters before buying. Typically, these chairs are also attractive and stylish.
Ask the seller if the chair contains firm padding or not. An office chair for a heavy person should include this element.
Now you should have a look at the wheels. Does the wheel roll smoothly, even under your full weight? Lastly, check the built-in quality of the chair.
Try to select those chairs which are manufactured by metal more than plastic. A high-quality chair may cost higher but last longer.
Which Office Chair Is Best for Lower Back Pain?
---
If you want to buy an office chair for lower back pain, you need to focus on how much lower back support it can provide. Here are some features you should consider before purchase:
Curve design: As our back is curved, the chair should also follow that instead of forcing us to adjust to it.
Adjustable seat height: Make sure the chair height is adjustable that you will be able to adjust to your workstation or computer desk.
Depth: As we have mentioned before, careful about measuring seat depth, or you will face lousy pain in your back.
Office chair back cushion: If we have to sit in a chair for a long time and suffering from unbearable back pain, then definitely, the office chair isn't supporting our back correctly. As a result, we have to get up with a painful backbone and restless shoulder.
In that case, an office chair back cushion can provide the proper support in our back by maintaining proper blood circulation. Also, a cushion provides us right and good posture, proper viewing angle, and comfort. So, we should check these features before purchase.
Office Chair Back Support
---
Do you know how to reduce back pain by using office chair back support? Simply, it fills the gap between the backbone and the seat. Also, it promotes a good posture.
Let's know how Office chair back supports helps us to reduce back pain:
Back support increases the blood flow, limits muscle fatigue, and spine tightness
Some lumbar pillows are built with a removable and breathable mesh cover that enables air circulation. As a result, our back remains cool
---
Know More About Office Chair for Back Pain
---
Now you know how office chair helps reduce back pain. We hope you already have a strong office chair or you are researching before buying it.
If you haven't bought it yet and want to compare the quality and price of some top products on the market, you can check the top 3 items below.
So, how were the top three collections? Did you find yours? If yes, then congratulations! But, if not, then you have an option to compare more products before making the final decision.
You can check out our top ten Best Office Chair for Back Pain review with a handy comparison table.
Final Verdict
If you are a busy person and have to work for a long time sitting in a chair, you should buy an office chair with back support. I hope this article will help you while buying one for you.
Still, if you have any confusion or any question on how office chair helps reduce back pain, please feel free to leave your comment. We will answer your questions.
Have an excellent time with your office chair! 🙂