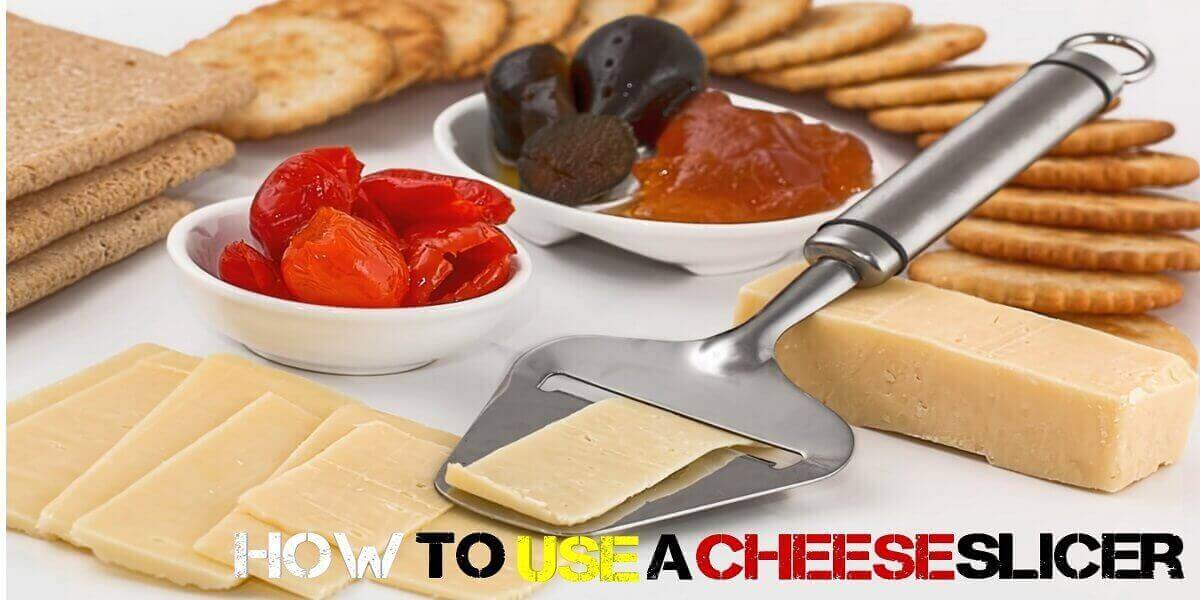 Whether you look for the juiciest patty in your favorite hamburger or creamiest pasta of the town, I bet none of the items could satisfy your taste bud if the cheese is missing. Yes! Cheese is the new pinch of salt that can transform any simple dish appealing. Especially when it comes to baking pasta or making a burger, a perfect slice of cheese is all you need. So, if you are also a cheese lover like me but unsure about cheese proportion, we highly recommend you to grab the best cheese slicer in the market.
Honestly, compared to the cheese knife, the cheese slicers help to bring perfection to the taste of food within a matter of seconds. Since people are more familiar with a cheese knife, it's time to introduce you to the cheese slicer and how to use it.
What Is a Cheese Slicer?
---
Basically, a cheese slicer is a tool that works as a helping hand in our hectic schedules. Using a cheese knife, you need to focus on thickness, consistency, and safety. Using a knife, there is always a risk of cutting yourself, and proportion may not be the same for all the slices.
Therefore, to avoid self-cut and consistent slicing without any worries, the cheese knife has been developed into a cheese slicer. Now, using the slicer, you can easily cut any size of cheese slice or block regardless of its type. Usually, the slicer is designed with a handle, and the knife is made of sturdy material. Therefore, the user can casually hold the device and make the desired slice they need for a burger, pasta, or sandwich easily.
Different Types of Cheese Slicer
---
When you look for cheese slicers, you will see that varying the types of cheese; there are different types of cheese slicers available to purchase. Even though you may find different slicers offer different features, ideally, they are categorized into three types. So, no matter what cheese you are going to slice, depending on your need and the softness of the cheese, you may choose the one suitable for you.
Rolling cheese slicer
This rolling cheese slicer is designed with a T-shaped handle, roller, and a wire. So, the mechanism is, the wire will cut the cheese into different thicknesses. More importantly, the roller will ensure smooth and even slicing. If you need to slice like soft mozzarella cheese or semi-hard cheese, then you can go for a rolling cheese slicer.
Wire cheese slicer
Among the three types of cheese slicers, the wire slicer is widely used. Even though this slicer needs more space for storage, you can do slicing or grate cheese using this one tool. Moreover, it's also designed differently than others.
To begin with, the slicer comes with a cutting board. And, to cut according to your convenience, it also comes with a handle. So, holding the handle, you can simply pass through various types of cheese for grating, cutting, or slicing. Hence, if you are searching for one tool to cut different cheese, whether it's mozzarella cheese or any hard or semi-hard cheese, then you may pick a wire cheese slicer.
Plain cheese slicer
The plain slicer is basically like a peeler. It's designed simply with a handle, plain blade on the top made of stainless steel. As you slide down the slicer through the cheese block, it will cut a wide and thick piece of cheese. Mainly, the plain cheese slicer is used for thick slicing; however, you can also use it for thin slices or grating using the flexible, sharp, angled blade.
How to Use a Cheese Slicer
---
Cheese is a delicate ingredient that you may break if you are unable to slice it properly. From the above discussion, you have been familiar with a cheese slicer and its diverse types. Now, it's time to know how to use it like a pro. Below are some of the steps you need to follow to make the perfect slice of your favorite cheese.
Step 1: Study the slicer
---
As you purchase a cheese slicer, you are going to get instructions along with it. Reading it through will give you an idea of how to use it. Moreover, you will also know what not to do with your purchased cheese slicer.
Step 2: Unpack the cheese from the packet and leave it to moderate temperature
---
If you are going to cut a freshly bought cheese, you need to tear the packet first. However, please don't remove it completely. Just tear the mouth of the packet with a scissor or knife and let the cheese stay inside. This way, you can protect the cheese safe and dust-free.
Nevertheless, if the cheese is too hard or too soft, you will not be able to cut it well. Therefore, we recommend you bring it out of the fridge around 15 minutes earlier. Even though cheese slicers can cut through any form of cheese, to get the perfect size and proportion can be ensured when the cheese itself is at a moderate temperature. So, keep this factor in mind!
Step 3: Get the cheese slicer to set the thickness
---
There is a wide range of cheese slicers available in the market where you can set your desired thickness of slicing. What varies is how to modify the setting. Therefore, we have suggested you study the tool beforehand.
So, if you are using a plane slicer or rolling wire slicer, you can set the thickness by wrist angle. Some slicers also offer to customize the thickness with the screws included. On the other hand, some slicers come with a board and a lever, which you can use to adjust the wire according to the required thickness.
Step 4: Slice the cheese
---
You must have noticed that cheese comes in different shapes. If your picked cheese has a cutting side and a blunt side, we would suggest you put the sharp side for cutting. Now, slide the cheese slicer slowly, and voilà! You will get a smooth slice of cheese with perfect thickness as you wanted. Now, you are ready to plate it in your sandwich or burger and enjoy it!
Step 5: clean your cheese slicer
---
As you have done with slicing, don't leave the slicer without washing. It will not only get bacteria but also damage the sharpness of the slicer. Therefore, always clean your slicer with the recommended cleaner instructed on the package.
---
Top Tips on How You Can Maintain the Sturdiness of a Cheese Slicer
---
So, whether you need to use the slicer regularly or occasionally, only proper maintenance can ensure the tool's durability. I'm a cheese lover, and I use my slicer almost every day. Honestly, I haven't been using the same slicer for the last 3 years, and here are my secret tips for maintenance.
Make sure the sharpness of the slicer wire or knife is on point. You can use a sharpener when it's dull or blunt before cutting the cheese.
Since slicers' material and construction may vary, therefore you need to be careful what you use to clean it. To ensure durability and sharpness, we recommend you follow the instruction of cleaning that comes with your slicer. Not only that, let the slicer completely dry and wipe out any excess dust and oil.
Do not cut other materials using the cheese slicer.
Keep the slicer in the package and store it in a safe place.
Get additional wires while purchasing a cheese slicer. You won't have to go to the market frequently in a while.
---
Know More About Cheese Slicer
---
Now you know the easiest way to use a cheese slicer. We hope you already have a good cheese slicer or you have just bought a new one. 
But if you haven't bought it yet and want to compare the quality and price of some top products in the market, you can check the top 3 items below.
So, how were the top three collections? Did you find yours? If yes, then congratulations! But, if not, then you have an option to compare more products before making the final decision. 
You can check out our top ten best cheese slicer review with a handy comparison table.
Final Thought
Slicing cheese with a slicer is soothing. Isn't it! As you already know, how you can use the slicer to cut the cheese in desired sizes; let's do this in real. Before you actually make the slices for your food, it would be wise to do some test cuts beforehand. We are sure you will be able to cut the cheese like a pro after a few uses. Let us know about your experience!