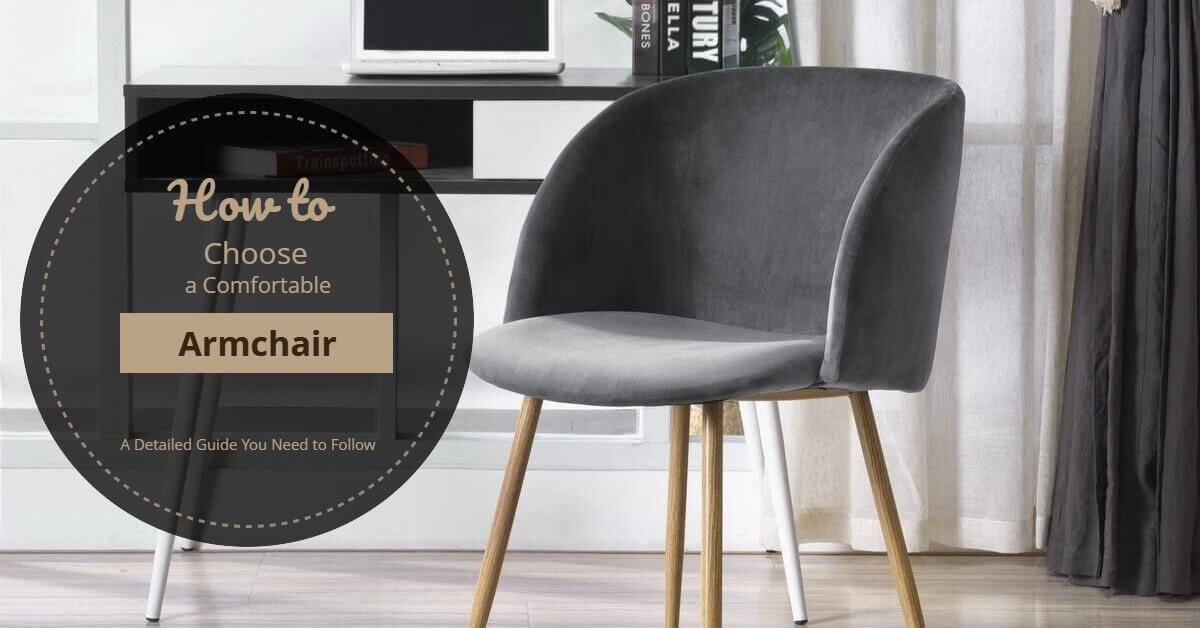 Choosing the best armchair is not a tough task, but it's much tricky nowadays. Though an armchair isn't as pricey as a sofa, you should still consider some essential features before investing. But, where to know the must-have features?
Let's discover what we have suggested for you today. We are going to share our experience and knowledge about the key features of an armchair. This article will assist you in choosing the right armchair for your need. So, keep reading!
How to Choose a Comfortable Armchair
---
Size
---
Size is the first and foremost important feature that you should keep in mind before picking up an armchair. Since we are not all one size, then you have to find chairs according to your size.
The best armchair should have the correct depth, width, and footrest position. The ideal thickness of an armchair is 1.5-2 inches, the width should be around 22-24 inches, and the footrest should not be more extensive than 12-15 inches.
Also, you should measure your desired armchair with other furniture in your room. Surely you don't want your house to be cramped. So, it should suit the circumstances of the place. You naturally expect enough space for walking or moving into your room.
---
Style
---
Your choice will define your personality and style. Before shopping, consider the entire decor of the room. Choose an eye-catching designed armchair that will match your other sitting furniture. A room with different colored furniture makes a beautiful environment.
So before selection, think about how the armchair suits the other furniture. For example, if you have a black color sofa, you may select a red or orange color armchair. If you don't like colorful furniture, in that case, you can choose black and white. These color combinations make the decoration classy and stylish.
Fabric
---
The fabric of the armchair depends on your lifestyle. For the best armchair, you should choose a fabric that is good-looking as well as stylish and comfortable while sitting. Armchairs come with different types of fabric. Let's have a look at them.
1. Velvet
You might like the luxurious velvet fabric. But you should know that this fabric requires high maintenance. If you own a pet like a dog or a cat, then you should avoid velvet fabric. Because your pet's fur will make the chair messy, and you have to brush it frequently.
2. Linen
For a formal environment, linen is the best choice. The reason is to become wrinkles easily. If you want to avoid shrinkage, you should not buy an armchair with linen fabric because it is recommended to be washed professionally.
3. Leather
The armchair with a leather fabric is much durable than others. As leather can absorb water, you don't have to worry about an accidental waterfall in the armchair.
Another thing you should consider is you want to choose either a fixed cover armchair or the removable one. The fixed one is cheaper, and you can't wash it if you wish. On the other hand, the armchair with a removable cover is costly, but you can wash it or do dry cleaning.
4. Vinyl
Vinyl is cheaper than leather, and you can wash it frequently with ease. If you have a big family and like frequent family gatherings, Vinyl will ideally suit you.
5. Cotton
It's a natural fabric that gives excellent protection from fading and pilling. But it can protect less from wrinkling, soil, and fire. The durability of cotton depends on finish and design.
6. Wool
To protect your chair from pilling, fading, wrinkling, and soil, you can use wool. If you want to clean the fabric easily, the yarn must be mixed with synthetic fiber.
7. Silk
Silk is a sensitive fabric that is only fit for the formal living room. You have to clean it professionally.
8. Nylon
Nylon is rarely used to manufacture armchairs. Commonly, nylon is mixed with other fibers to make it more durable than other fabrics. It is very flexible and doesn't get wrinkled easily but leads to fade and pill.
9. Olefin
For your furniture, Olefin is an excellent choice. The armchairs made of olefin lasts for longer than others.
10. Polyester
Like Nylon, it's also rarely used in upholstery and mixed with other fibers to resist wrinkles, fading, and crushing of napped fabrics. If polyester blends with wool, it bothers pilling problems.
11. Rayon
You can call it a multiple fabric because it looks like imitation silk, linen, and cotton. Rayon is durable and wrinkleless.
How to Understand the Comfortability of an Armchair?
---
Do you know what options make the armchair comfortable? Well, they are the seat, chair back, arms, the angle of the chair, and many more. I will describe it to you.
Seat
If you want a perfect armchair, it should contain a comfortable seat. First, check if the seat is sinking much or not. If it sinks too much, you have to struggle to get out. On the other hand, if the seat is too hard, you will feel uncomfortable after sitting for a while.
Chair Back
You can buy a chair with a high or low back. If you want to spend your leisure time or gossip sitting in the armchair, you should go for a lower back one. If you are a regular book reader or TV viewer, you should choose a high chair back, which will provide you with some neck support.
Do you know there are two types of back? Well, one is covered tightly, and another one is of loose cushions. You can choose anyone you like. If you are searching for a combination of the settled tight back along with a cushion, you can use an additional pillow that may offer you several options.
For example, the pillow will provide you with more support, make the seat of the armchair's seat more superficial, and most importantly, you can choose the pillow with a different color.
Arms
You will buy an armchair for its comfortable arms where you can rest your hands for relaxation. So, the arms of the chair should be checked whether you can put your hands naturally or feels awkward.
Arms have many styles. They can be cushioned or made with different materials like wood or metal. If the chair arms are padded with fabric and some cotton, then you will feel comfier.
Quality
A quality armchair should serve you for a lifetime. The quality of an armchair doesn't define only how long it will survive but also its comfort level, look, and durability. Wood is the most common frame choice for the armchair. On the other hand, a steel-framed chair is durable, and you can use it harshly.
Try to find out the elements the seller has used for making the armchair. Also, try to know the durability of the fabrics and frame. As quality products stay longer, they should provide an extended warranty.
Longevity
Ideally, a standard armchair should last for a long time. Thoroughly inspect your desired armchair before purchasing. Don't be overwhelmed by just watching the eye-catching fabric; you should also consider the chair's frame.
If it's a wooden armchair, ask the seller what type of timber it is, how long it will survive, and whether they are giving any warranty on the wood or not. For the metallic chair, consider the quality of the metal. You can ask the seller whether it will rust in and it is well finished with the fabric or not.
If you have little children or pets, don't buy a piece of high-maintenance furniture. Otherwise, your comfort level may change to tear.
---
Know More About Armchair
---
Now you know how to choose a comfortable armchair. We hope you already have an armchair or you are researching before buying it.
If you haven't bought it yet and want to compare the quality and price of some top products on the market, you can check the top 3 items below.
So, how were the top three collections? Did you find yours? If yes, then congratulations! But, if not, then you have an option to compare more products before making the final decision.
You can check out our top ten Best Armchair reviews with a handy comparison table.
Final Verdict
When you decide to purchase an armchair, don't go only for the trends; you also remember that you need a chair for your comfortability. Consider the above features to avoid trouble. We hope you know how to choose a comfortable armchair now!