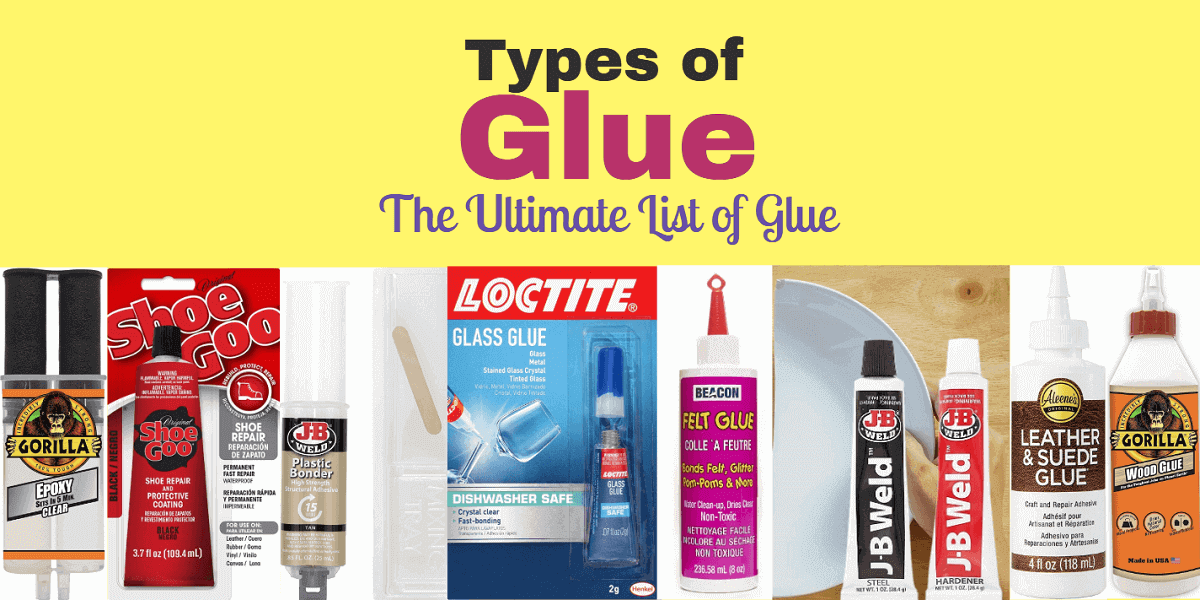 To know which is the best glue for ceramic, understanding the different types of glue is a must.
Glue is one of the most common and essential elements that we may find in every house.
From gluing paper to crafting, from occasional users to professionals, every person needs different glues for different purposes.
Thus, having the best one in storage is important because you never know when you need one for joining or repairing jobs!
Being a DIYer, I need to use glue for crafting. When I begin to look for it, I was astonished to learn about the diverse types of glue lists.
Let me tell you, no matter for what purpose you need glue; it's very important to have a fair idea about all types of glue.
Otherwise, a simple glue can either be worthless or damage your precious item.
To cut to the chase, here I am going to discuss all types of adhesive glue and their usage so that the users can understand which one they need for a specific purpose. So, keep reading!
Types of Glue
---
The purpose of using glue is to join things together. From this discussion, you will be able to know the different types of glue available in the market and what they are used for.
So, before you pick a glue, pay attention to where you are going to apply and the quality of the glue you have selected.
To pick the right glue, let's get into the details:
---
Glue for Shoe
---
The sole of the shoe is essential and needs delicate treatment in case you need to repair shoes.
For all kinds of shoes, URETHANE RUBBER is commonly used for attaching the loose parts of the shoe.
You can also apply super glue for quick repair as it's moisture-resistant glue.
If you need glue for sports shoes or boots, you can use neoprene cement. They are incredibly long-lasting and weather resistant.
But, before you apply, you need to know the sole type and material.
---
Glue for Ceramic
---
If you want to repair broken ceramic items, you need the best adhesive glue for ceramic repair.
Since there are different types of ceramic, such as porcelain, pottery, ceramic tile, and so on, you need to pay attention to the ceramic type before repairing it.
If you are looking for the glue to repair ceramic cutlery, porcelain mug, ceramic utensils, or ceramic plate, make sure the glue is food safe.
Then, for repairing ceramic things in general, you can use epoxy. But, for ceramic tiles, you would need tile adhesive specifically.
---
Glue for Plastic
---
For gluing plastic items, you can find plenty of choices.
There are around 5 types of glue you can use on plastic materials such as solvent cement, epoxy adhesive, cyanoacrylate, super glue, hot glue adhesive, and plastic welding.
The solvent cement contains a resin that melts the soft surface to join.
Epoxy works with chemical reactions mixing two components together, but it can be troublesome to use on plastic.
Cyanoacrylate is also known as super glue. It's extremely efficient to join plastic materials.
But, you have to be very cautious before and while using it. Besides, hot melt adhesives are quite popular among DIYers.
They are easy to use with a glue gun, and you can find various colors, sizes, and types of hot glue sticks. But, they work well when used on acrylics.
You can also use plastic welders. They are similar to welding steel machines.
---
Glue for Glass
---
Repairing or joining glass items can be complicated. Usually, superglues are widely used, but it doesn't give a smooth finish.
These days, people also prefer to use epoxy because it's easy to apply, cure, and get a better finish.
The best glue for glass is to use anaerobic adhesive. You don't need air, light, or heat to seal glass items.
You can use this glue to comfortably use on glass, paper, rubber, and so on.
---
Glue for Felt
---
You may or may not know; there are spray adhesives too. You need a properly ventilated room to use this glue.
Then, spray the glue on the object, wait for a while to evaporate the glue, and then join the pieces.
This spray glue adhesive can be used not only on feeling but also on a photo, paper, board, fabric, etc.
---
Glue for Metal
---
Similar to plastic items, there are several options of glue to use on metal.
First of all, Pressure-sensitive adhesives, also known as PSA, are available in convenient ways that you may find them in sheets and dots.
Besides, you can use superglue on metal because it needs a strong substance to join metal objects. Nevertheless, you can use polyurethane adhesives.
It's another multipurpose glue that you can use on various types of surfaces such as plastic, metal, wood, rubber, ceramic, etc.
However, polyurethane needs time to dry and join the bond strongly.
---
Glue for Leather
---
Leather belongs to the fabric material.
It's better to get glue specifically applicable to leather to use on leather shoes or bags.
But, fabric glue is popular for use on leather. This glue looks like a white substance similar to PVA glue.
You may find fabric glue to use on leather, mostly in fabric stores. Such glues are popular to use in the garments industry and leather projects.
---
Wood Glue
---
There is a wide range of glues available to use on wood. The yellow glues are quite famous and have been in use on wooden items since the ancient period.
This yellow glue is a water substance made of vinyl acetate polymer.
These days, people are using yellow glue on crafting projects because they are strong and can be used without curing.
It's also easy and convenient to use. Besides, you can use sawdust too for wood projects for special effects.
Polyurethane, super glue, and mod podges are also used on wood, depending on the purpose and project.
So, depending on what project you are working on, you can choose the glue suitable and compatible with you. Do a bit of research beforehand and read the label before use.
---
Glue for Paper
---
Paper glues are widely available in stationery stores. You may find a liquid adhesive, mod podge, or glue stick to use on paper.
From crafting to sealing envelopes, you may use any of them that seem convenient to you.
---
Glue for Popsicle Stick
---
Popsicle sticks are a fun object for newbie DIYers.
You can make amazing showpieces to useful boxes using a popsicle. They are made of wood but most fragile.
Thus, you would need strong and easy-to-use glue that can join the sticks strongly together.
Glue guns are quite convenient to use on popsicles. You may also use mod podge or superglue.
But, if you want to save time and create something out of popsicle without the risk of damage, I would say a glue gun would be the ideal choice.
Tips for Using Glue
---
If you don't want to waste glue and use it for a long time, make sure you keep the cap of the tube or container properly sealed.
Super glues tend to harden when left for a long time. You may keep it in the fridge to save it from hardening.
If you are a first-time user, always try and test the glue on a small area before actually using it.
To remove excess glue from the surface, you can use acetone and soapy water and leave the area to soften. Wipe off when removed.
---
Learn More about Glue
---
Now you know about various types of glue. We hope you are using the best glue to fix your valuable utensils or you are researching before buying them. 
If you haven't bought it yet and want to compare the quality and price of some top products on the market, you can check the top 3 items below. 
So, how were the top three collections? Did you find yours? If yes, then congratulations! But, if not, then you have an option to compare more products before making the final decision. 
You can check out our top ten best glue for ceramic review with a handy comparison table.
Final thought
Here are some of the commonly used types of glue. From home users, DIYers to professionals, these are the glues they apply depending on the material.
You may find many other types as well.
Now that you are well aware of all the glue types, it will be easy for you to pick the best glue for ceramic, wood, plastic, glass, or even metal.
Don't forget to follow the tips to use the glue for a long time.