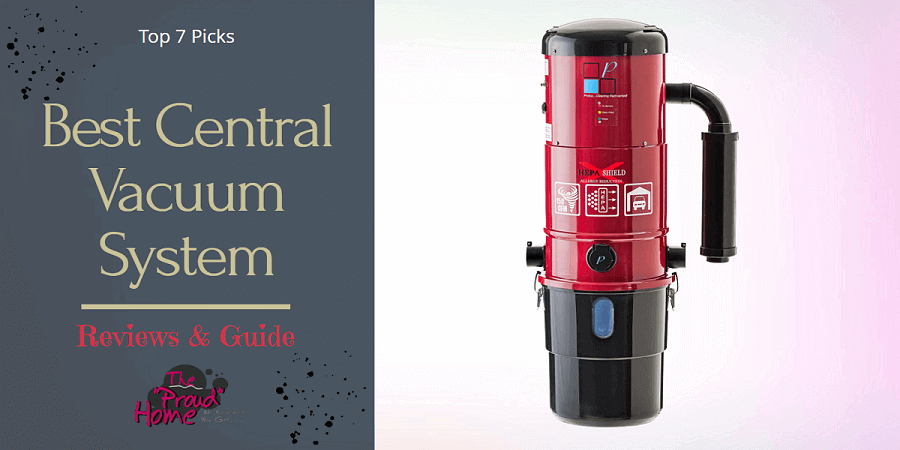 The whole house vacuum is no more a tough job when you can install the best central vacuum system for your entire house. No matter how small or large homes you intend to vacuum, cleaning is certainly a hectic job. Though there are different types of vacuum cleaners available to make the job easy, you have to move around and touch every corner manually with the portable vacuum machine to ensure your house is properly clean and tidy.
The portable vacuum cleaners may slightly make the job convenient, still carrying it around for the whole home vacuum is still a time-consuming job. Thus, considering this factor, this innovative central vacuum cleaning system has been introduced. Several central vacuum brands are manufacturing top-quality ultra-clean vacuum cleaners; hence finding the best central vacuum systems isn't easy at all.
This is why I am presenting here the 7 best-rated vacuum cleaners to review. So, don't miss any of the details so that you can have a fair idea about the cost of installing a central vacuum system and which one would be worth investing in.
Top 3 Central Vacuum System in 2022
In a hurry? These 3 are the Best Central Vacuum System in 2022:
What Is a Central Vacuum System, and Why Do You Need It?
---
Before learning about the whole house vacuum system reviews, it's important to get to know what central vacuums are. As from the name, you can already assume that it's an in-house vacuum system. The system is installed throughout the walls with built-in pipes. And a large vacuum is installed outside the home, typically in the basement or garage.
For the convenience of the users, there are suction ports that you can attach or detach, like electrical outlets. When you are using regular handheld vacuum cleaners, you have to carry them from room to room and reach each corner of the house. However, this central vacuum system installation comes with a central vacuum hose which removes the necessity of moving around the house carrying the heavy cleaner.
Compared to portable vacuum cleaners, the central vacuum power units are more powerful and quieter. Also, the venting system is installed outside the house, so you can be certain that your house will be purified from dust, dirt, mite, and other allergy-prone germs. Therefore, the central vacuum systems are far convenient and comfortable for whole-house cleaning.
Best Central Vacuum System Comparison
| Image | Name | Summary | Our Rating | Get It |
| --- | --- | --- | --- | --- |
| | OVO Heavy Duty Powerful Central Vacuum System | Much durable. 35 l dirt receptacle. Noise blocking technology. LED indicators to know the status of the unit. | | Check Price |
| | HP Products 9880 Dirt Devil Central Vacuum System | Space-saving. 1-gallon capacity. HEPA bag filtration. Comes with a tool bag. Long Expandable Hose. | | Check Price |
| | PP500 PurePower 500 Air Watts Central Vacuum System | Quiet operation. Powerful suction. Ideal for small house. Comes with a 6-foot cord. Six-gallon disposable bag. | | Check Price |
| | Prolux CV12000 Central Vacuum Power Unit | 2-stage motor. Affordable price. Extensive warranty. 3-step filtration system. Bagless design with HEPA filter. | | Check Price |
| | BISSELL Garage Pro Wall-Mounted Wet Dry Vacuum | Big dust bag. 12-amp motor. Wall-mounted. Easy to install. 32 foot whose. Includes useful tools. | | Check Price |
| | Nutone PurePower Central Vacuum System | Low maintenance. 9000 sq. ft. house. Slim and compact design. Covers an area of up to 10,000 sq. ft. | | Check Price |
| | VacuMaid GV50PRO Wall Mounted Garage and Car Vacuum | 30-foot hose. Easy to install. High durability. Large dust bag. Powerful suction. 7-gallon capacity. | | Check Price |
7 Best Central Vacuum System Reviews
---
In this review section, you will get to see some outstanding central vacuum cleaners from renowned brands. Not only that, but the users also shared positive reviews and recommended others to purchase them. Though there are hundreds of renowned central vacuum cleaners available, after intensive research and analysis, I could successfully pick these 7 products considering their features, strengths, and reviews.
For your convenience and make a wise purchasing decision, I will share the advantages and limitations of each product. Enjoy the reading and choose the one you like!
---
---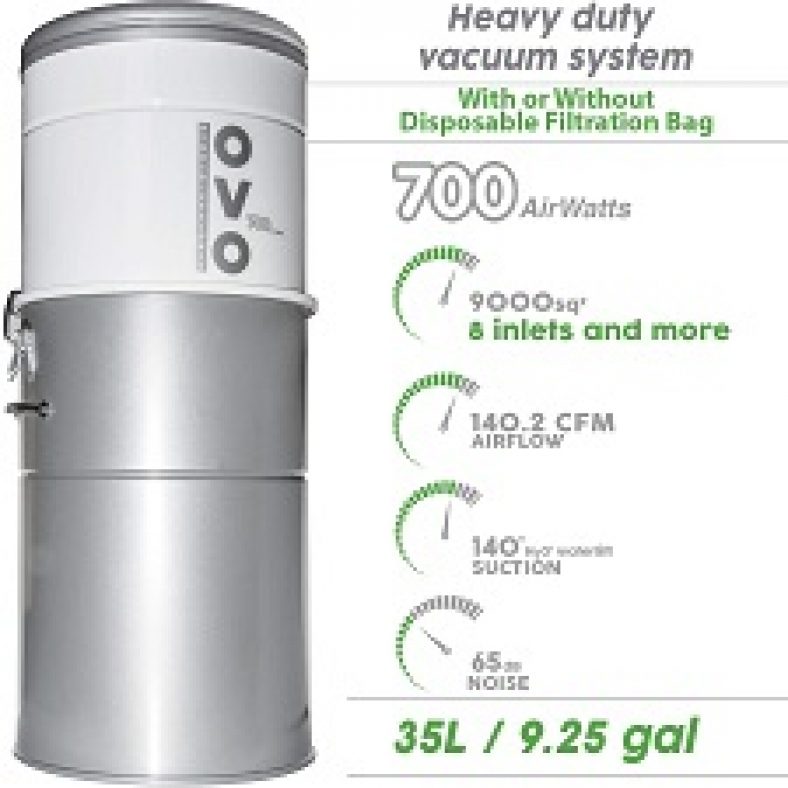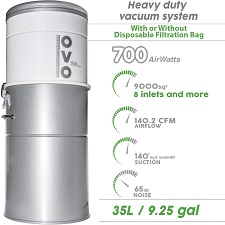 From dust, dirt to airborne particles, the OVO powerful central vacuum system can filter 99.97% of germs from the home environment. The 35 litter comes with two powerful motors that can cover up to 9000 square ft. Hence, it's an ideal vacuum cleaner for any large house.
Even though this cleaner has a powerful 700 watts' motor, it's not much noisy compared to its motor power. Additionally, to assure your home interior is properly purified, the cyclonic filtration mechanism is there to do the job profoundly. Besides, the filters are washable, and you can also use bags to dispose of the waste.
This mechanism assures the longevity of the cleaner that you can use for years. Moreover, if any of your family members has allergy issues or respiratory problems, they can expect to have better health conditions after installing this central vacuum system by OVO. Nevertheless, the triple-layer filtration bags also assure the users are safe and healthy while cleaning the canister.
Also, it comes with an LED display to easily check out the unit status. Amazing, isn't it? Overall, the OVO Central Vacuum System has efficient suction power that lets you have a completely dust-free home and breathe easily.
What we liked:
Much durable
35 l dirt receptacle
High suction power
Ideal for large home
Ultra-powerful motor
Bottom load mechanism
Noise blocking technology
LED indicators to know the status of the unit
What we did not like:
No canister
Requires regular maintenance
---
---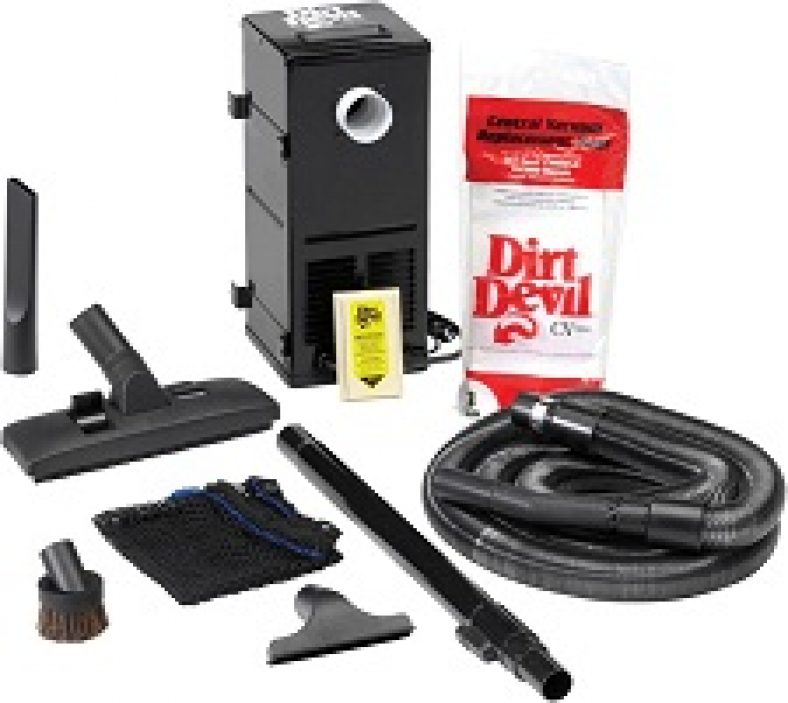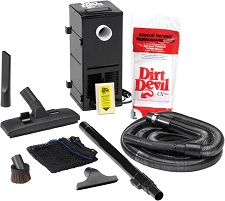 Another best house vacuum with a central system is from HP products. If you are looking for a satisfactory quality central vacuum system in an affordable price range, then you must check out this Dirt Devil vacuum cleaner from this brand. One of the remarkable features of this cleaner is the HEPA bag filtration system.
As you operate, the bag will collect all the debris so you can easily clean it when the bag is full. Moreover, you will get a powerful motor with an overload/overheat protector. So, the machine will automatically cool down after every use. Additionally, the device comes with an expandable whole house vacuum hose up to 35 inches.
As you purchase, you will get the central vacuum accessories along with it. The device is also made with durable material, which ensures durability and longevity as well. Compared to the price, this type of filtration system with the required features is a bonus. Overall, it's a complete package that comes with all the parts and installation necessities to readily use.
What we liked:
Lightweight
Space-saving
Easy to install
Strong suction
1-gallon capacity
HEPA bag filtration
Long Expandable Hose
It comes with a tool bag
Overheat/overload protector
What we did not like:
Bit noisy
Suitable for small house
---
---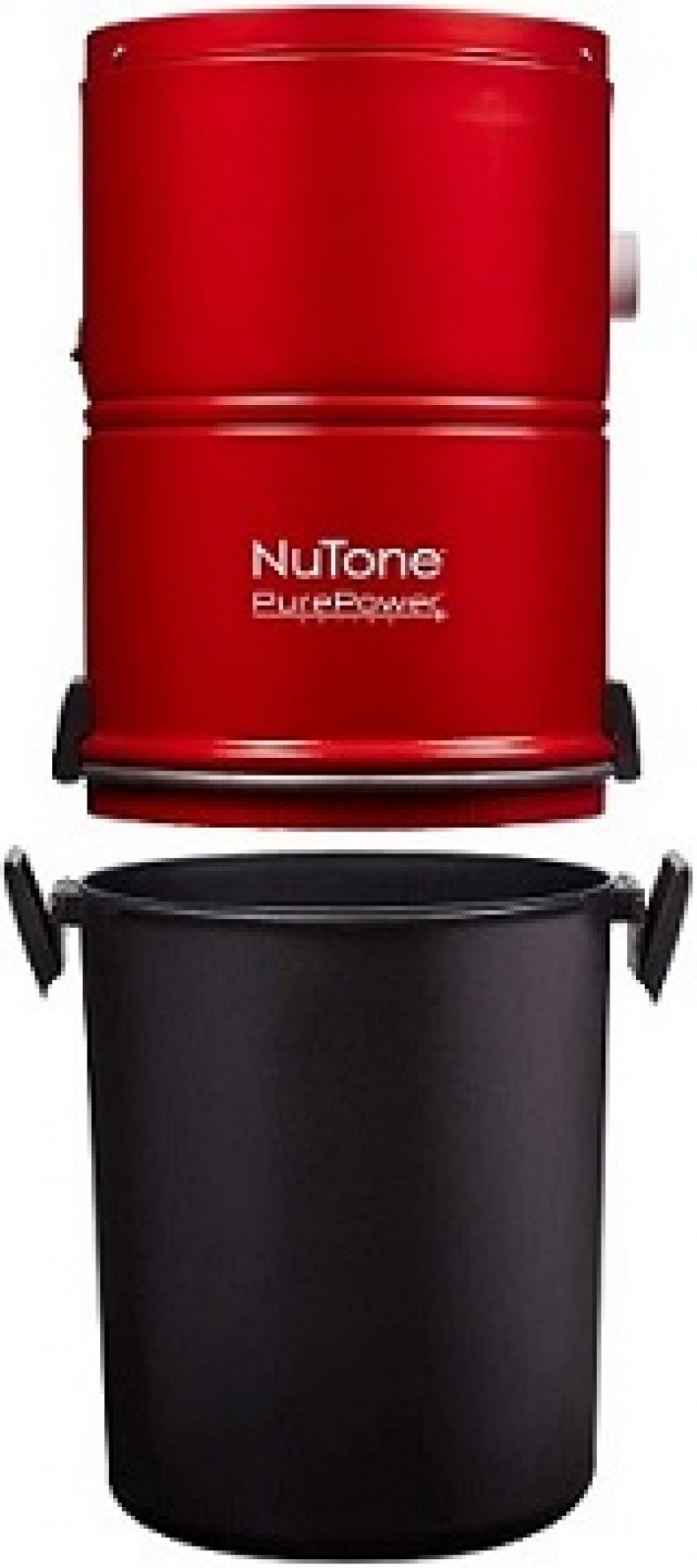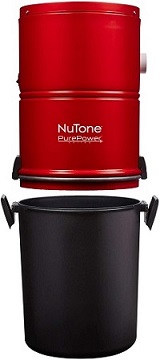 Are you on a limited budget? Yet, don't want to compromise with the best vacuum cleaner! If so, then this PP500 vacuum cleaner from Nutone can be a perfect fit for you.
To begin with, it's one of the vacuum cleaners that will catch your attention with its stylish design. The vibrant matte red color adds an aristocratic look that outshines this vacuum cleaner from any other cleaners. Besides, with the 500 air watts' suction power, the central vacuum system can remove dust, dirt, and allergens efficiently.
Then, to collect the debris, there is an exhausting tube with 50 feet capacity. The machine contains a self-cleaning filter and a disposable bag which you need to clean twice a year only. Also, to easily remove the disposable bag, there is an ergonomic lever.
All you need to do is install it in the garage or basement and enjoy the quiet operation. Though the vacuum cleaner comes with all the necessary features, it can cover up to 4000 square ft. only. Therefore, it's one of the best house vacuums for small apartments.
What we liked:
Easy to install
Quiet operation
Secure mounting
Powerful suction
Long-lasting filter
Ideal for small house
Six-gallon disposable bag
It comes with a 6-foot cord
What we did not like:
Not for big houses
Filters clog when wet debris is absorbed
---
---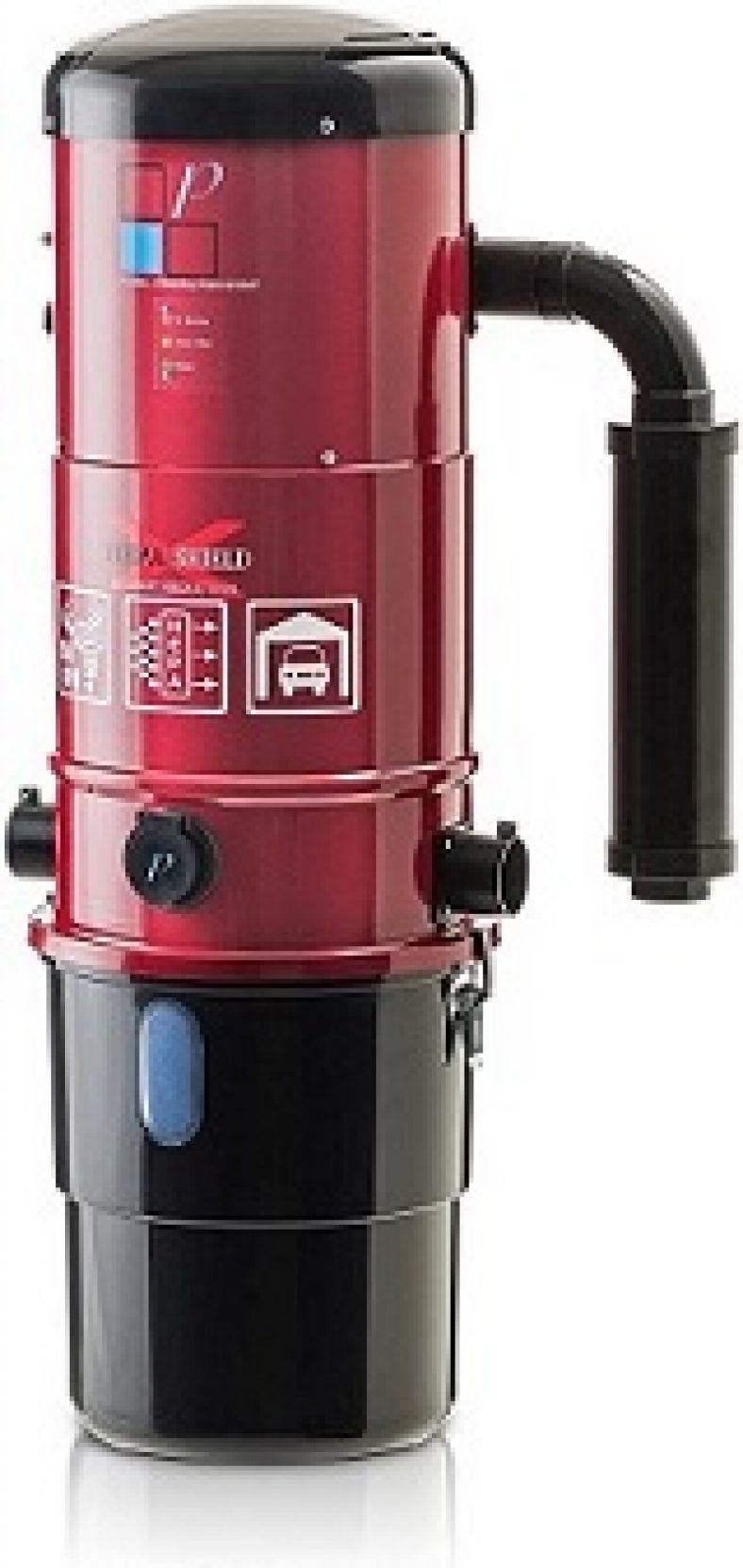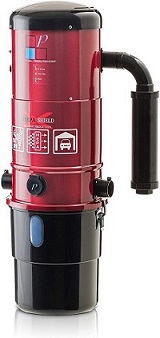 Here is another top-rated vacuum cleaner from Prolux. This amazing cleaner not only comes with the best central vacuum accessories but also an outstanding central vacuum power unit. The factor that sets this cleaner apart from any other cleaner is the two powerful Ametek motors.
Though the device has a powerful motor, the muffler kit makes it a quiet device for a peaceful home environment. Then, the HEPA filtration system assures your house is dust and allergen-free. Since the pre-filter and HEPA filters are washable, you can easily use them for a long time.
These multiple layered filters make it one of the best vacuum cleaners for carpet, sofa, and upholstery. Nevertheless, from the outer build quality to central vacuum system parts, every single section of this vacuum cleaner is made with durable material. Also, if you want, you can vacuum clean the house with a maneuverable vacuum stick.
What we liked:
2-stage motor
Affordable price
Extensive warranty
Ideal for large homes
3-step filtration system
Powerful and easy cleaning
Bagless design with HEPA filter
What we did not like:
Not good for wet debris
It doesn't ship with a hose
---
---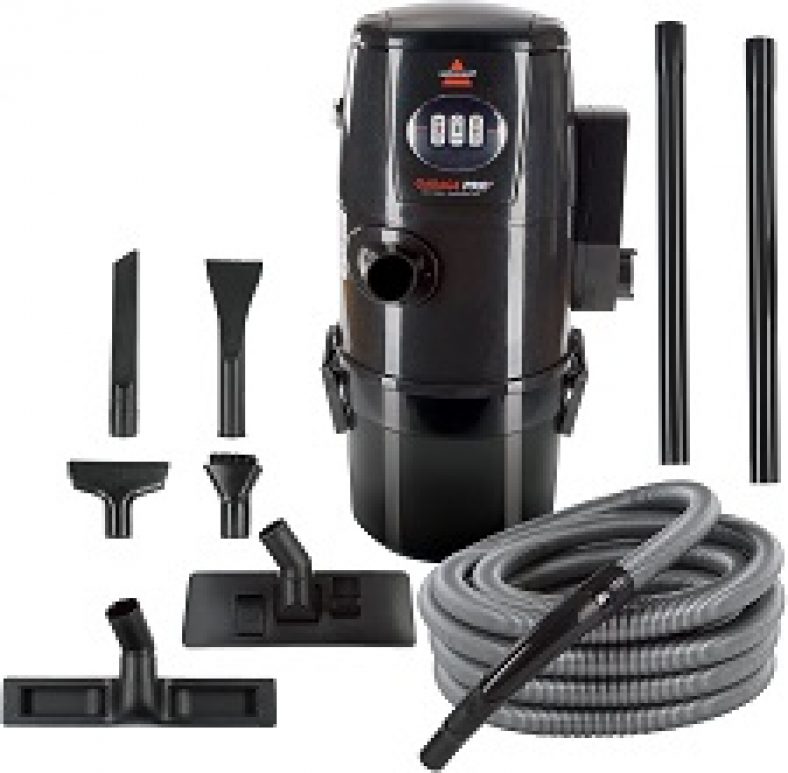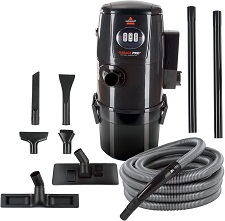 If you are in search of the best upright vacuum cleaner, then check out this wall-mounted wet and dry vacuum cleaner from Bissell. The dark color with outstanding features makes it a professional quality vacuum device you would love to have. You can conveniently hang it on the wall without consuming much space in the garage or basement.
Another remarkable feature of this cleaner is the long 32 ft. hose. If you install it in the garage, you can comfortably vacuum clean the car using the hose. Additionally, the 4-gallon dirt tank is semi-translucent with an LED indicator. So, whenever the tank is full, you can easily see from the outside and with the indicator to replace it when needed.
Besides, the 12-amp powerful motor is efficient enough to consume the debris. Since it's a wet and dry vacuum cleaner, it can easily remove liquid and dry dust. And, the canister helps to reach the hard-reach places with its maneuverability. Nevertheless, the package includes all the accessories that you would need to clean the floor, carpet, curtain, sofa, upholstery, and so on.
What we liked:
Big dust bag
12-amp motor
Wall-mounted
Easy to install
32 foot whose
Includes useful tools
Ability to suck wet and dry debris
---
---


Here is another vacuum cleaner from Nutone for you to compare. You will be surprised to know it's categorized as one of the best central vacuum system consumer reports. Compared to any portable vacuum cleaners, it's five times efficient and powerful in cleaning.
The combination of a 700 air watts' motor and a sealed HEPA filter make it a strong cleaner for deep cleaning your house centrally. More importantly, the device can clean up to 10,000 square ft. Nevertheless, the Ultra silent technology helps the device to run quietly, keeping the home environment peaceful.
Though the device comes with all the professional features, the size is much more convenient compared to that. You won't have to worry about an extra storing place as you can place it in a compact space. Certainly, it's a reliable and suitable device for a large house as well.
What we liked:
Low maintenance
9000 sq. ft. house
Durable single-stage
Slim and compact design
It covers an area of up to 10,000 sq. ft
---
---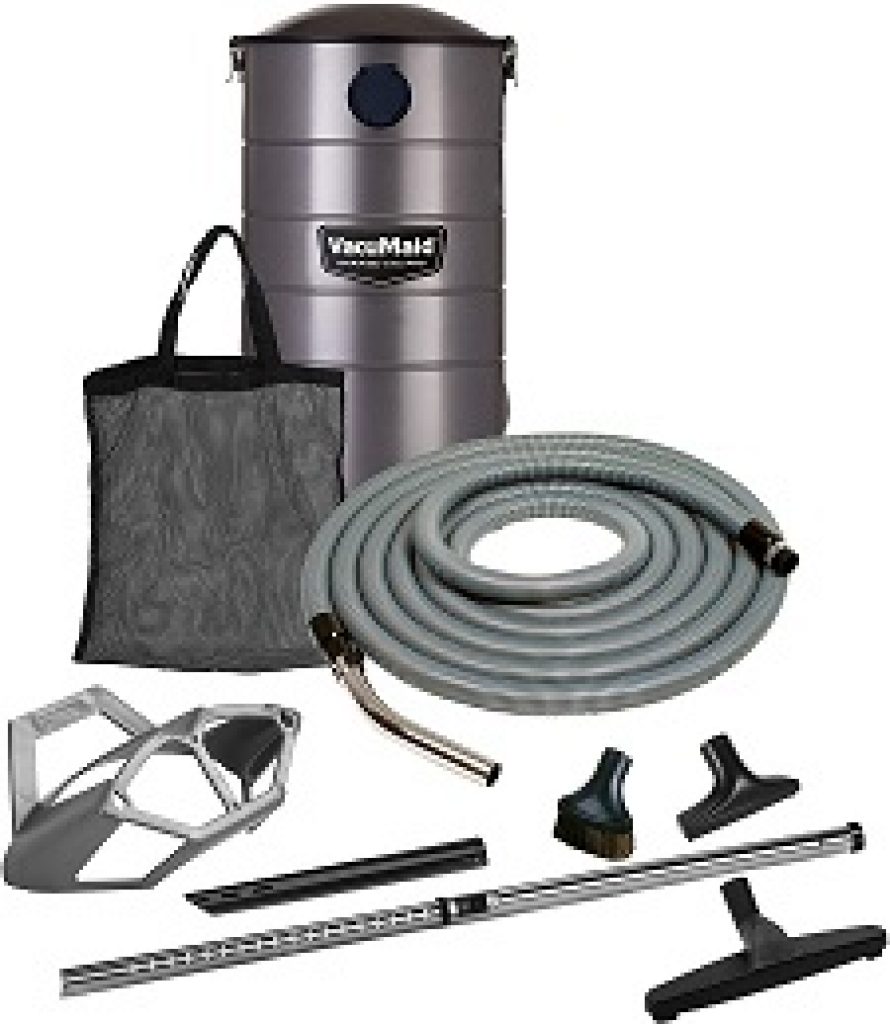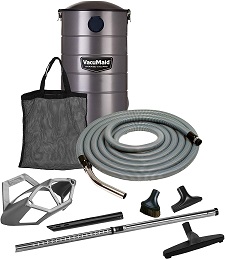 The final central vacuum cleaner is from VacuMaid. This brand has been manufacturing top-quality vacuum cleaners since 1956. This particular cleaner is a multi-purpose cleaner that you can install for a house and car vacuum. You just need to install it in the garage and enjoy cleaning the car with the 50 ft. long hose.
Also, for easy installation, the device comes with a strong and durable mounting bracket. Then, for filtration of the house environment, there is a HEPA filter with a disposable bag. First, the canister will collect the debris and deposit them in the bag.
Though the cleaner is not meant to collect wet germs, the HEPA filter and powerful Ametek lamb motor can capture up to 99% of airborne particles. Then, when the bag is full, you just need to clean it without contact with any germs. Moreover, the device is easy to install and comes with the necessary accessories you need for deep cleaning your house and car.
Overall, the device is made of corrosion-resistant galvanized steel for strength and durability.
It's also easy to clean and maintain. With the package, you will get accessories like the long hose, extension wand, tools for bare floor and above the floor, cleaning and storage kits, and so on. If you want, you can install it not only at residents but also in other professional places like offices, restaurants, hair spas, and so on.
What we liked:
30-foot hose
Easy to install
High durability
Large dust bag
Powerful suction
7-gallon capacity
Corrosion-resistant
Versatile functioning
It can be used as a blower
FAQ
---
Q) What is the best central vacuum system?
Answer: It's a tough call to name one central vacuum system as the best because different users have their personal preferences. But, considering the mandatory features and central vacuum ratings, the OVO Heavy Duty Powerful Central Vacuum System seems like a people's favorite.
Q) How much does it cost to install a central vacuum?
Answer: The central vacuum system cost varies depending on the specifications and model. The more advanced features will certainly cost higher. To be able to purchase the best-rated central vacuums, you may have to keep the budget around USD 300 or more.
Q) Are central vacuum systems worth it?
Answer: Purchasing a central house vacuum system is an investment. Once you may have to spend a few hundred dollars to buy a good quality central vacuum cleaner, trust me, it will last for years. If you can assure required maintenance, it won't cost an additional price for servicing as well. Moreover, it will ease your lifestyle and assure you to live in a safe and clean home environment.
Final Verdict
I have come to the end of central vacuum reviews. Throughout the writing, I tried my best to present the crucial information and analyze the features for your convenience.
In this list, not only you will see the quiet central vacuum cleaners, cleaners for home use but also the best central vacuum system for pet hair.
Each of these products is from reliable brands as well. Now it's time for you to purchase. But, before you do so, pay attention to which kind of central vacuum cleaners you need and choose the features accordingly.
You May Enjoy The Following Links As Well