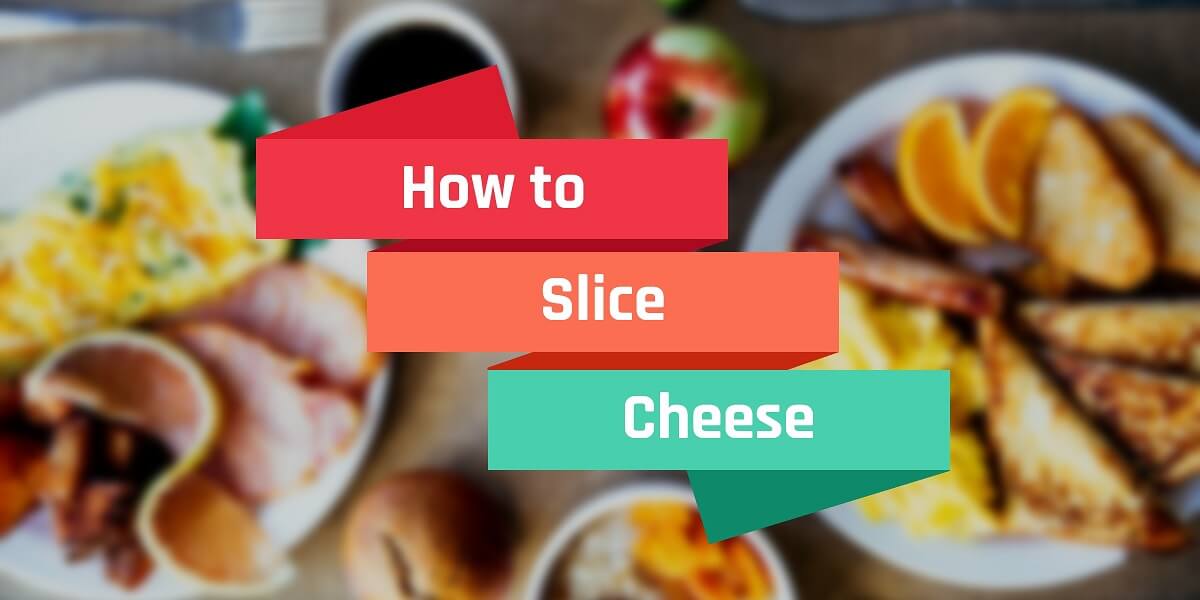 You eat with your eyes first. Definitely, the taste is crucial, but you won't disagree that if the food presentation is not appealing much, we don't feel the urge to eat. And, the cheese is one of those ingredients that does a wonderful job. Thus, having the best cheese slicer in your kitchen is not a big deal if you know how to use it to cut cheese for different dishes.
So, if you are also a home cook like me yet want to know how to cut cheese like professional chefs, then keep your eyes glued on this piece of writing because I am going to tell you some easy and simple techniques that you can apply to slice cheese using a knife or cheese slicer.
How to Slice Cheese
---
Actually, cutting cheese is not a difficult task. Let me give you an example of a simple French toast! It's an easy dish to prepare, which can have aesthetic enjoyment with a slice of cheese and ham on top of the plain bread. But, when you are planning for parties, ensuring the consistent slice of cheese is really hectic. Isn't it?
However, I think the best way to slice cheese depends on the type of cheese you pick. Here, I will discuss the ways to cut wedges to block cheese. But, let's start with the things you would need to cut cheese first!
Gather the Things Needed to Cut the Cheese
---
Choose a correct knife or slicer
Choosing the right knife is very important because the perfect shape would depend on how hard the cheese is. Usually, hard cheeses are easy to cut. But, the tricky part is cutting the semi-soft or soft cheese. So, choose the sharp knife, wire cutter, slicer, or peeler that seems convenient to you.
A clean board
The next thing you would need is a clean board. If you have a cheese slicer, you probably wouldn't need it. But, no matter where you lay your piece of cheese to cut, make sure the tray is clean and dry.
Cut the cheese with a correct knife
Don't get scared when I say "correct knife." In no way, I recommend you buy an individual slicer for specific cheese. But, the cheeses are very delicate, and there is a wide variety of slicers in styles, shapes, and variations. So, if you are a perfectionist, then it would be wise to use the right slicer to have the perfect portion of cheese.
Ways to Cut Hard Cheeses
---
Even though hard cheeses are easy to cut, I use a tear-shaped sharp knife. As you place the cheese on the board, hold the cheese with one hand. Now, grab the knife with the other hand and start with its tip. Then, slide it through the cheese and push the knife down slowly. Easily, you can make wide slices or scrambled pieces as you wish.
Ways to Cut Medium-hard to Medium-soft Cheeses
---
Let me tell you; you need to be very careful while cutting medium-hard to medium-soft cheese. Since using the knife for such cheeses is time-consuming and doesn't give me the desired finish, I prefer to use a wire cutter. You can also use dental floss. Just slide through the wire or floss to have even thick pieces.
Ways to Slice Blue Cheese Wedges
---
Most cheese wedges come in the shape of a wheel or pyramid. In such shapes, it's easy to cut in smaller sizes. Here, the good news is you can use a sharp knife. Just place the tip at the center of the cheese and cut according to the desired width. Also, you can cut the whole wheel into half, then cut each portion into half until you get the required width. I like this way because it gives me even a portion of all pieces. Usually, I prefer to keep it 1 to 2 inches thick before presenting.
Ways to Cut Semi-soft or Soft Cheeses
---
Compared to regular knives, the soft cheeses knives come with long blades. They are also sharp and designed with a pointed tip. However, the knives are designed with holes in them. Since soft cheeses are tricky to cut, and often they get stuck with the knife, the holes keep the cheese from sticking. So, to cut the cheese, you just need to angle the knife at the edge of the cheese and press it down in blocks.
One point to ponder! The cheese is soft, so I prefer to keep them in thick blocks than make thin pieces. You can also choose the desired thickness you prefer. And, when you are done, use the blade tip to pick up the cheeses on the plate.
Ways to Cut Crumbly Cheese
---
Whether the cheese is soft or hard, you can use a cabana knife to make the perfect crumbly pieces. They are usually wide and designed in the shape of a bell. The best part of these knives is they are not sticking to the cheese. Apart from crumbling, you can also use the knife to create big chunks if needed!
Ways to Cut Thin Slices of Cheese
---
Making thin pieces of cheese needs practice. Even though I knew the techniques, it took me a month or so to be an expert. Now, I prefer to use a cheese plane to save time. You need to do is place the plane on the thin side of the cheese.
Then, drag the plane slow and steadily over the cheese. As you do, you will find the perfect piece of cheese will be right on the tip of the cheese plane. You can easily place it on your sandwich or nachos top.
Ways to Chop or Cut Cube Cheese
---
I am a huge fan of parmesan cheese. I often use it for my apple pie for dessert and sometimes for my juicy parmesan chicken. Even thinking about parmesan or cheddar brings a smile to my face. Moreover, you can get variations in cuts, especially when the cheese is hard. I prefer to make cubes, grate, or finely chop my hard cheddar, parmesan, or goats' cheese.
And, to do the job, I use a scoring knife. Its sharp edge and pointed tip help me to make a big chunk of the cheese. I also use it to make smaller and even pieces. However, for thin slices, I use a cleaver. The wide blade is easy to control and decisive cut. You can also use the knife to make square blocks as well.
Time for Plating
---
As you are done with cutting and happy with your slice of cheese, remind yourself that it's time for plating. It's the most crucial part because you are going to accentuate the beauty of your dish with this slice of cheese. If you are planning to eat the cheese directly or as a side dish, choose a wide wooden board or ceramic tray that matches the shape and type of the cheese. You can use a square, rectangular or hexagonal tray as you wish.
Now, evenly lay the slices or keep them in a stack in a manner they are easy to pick. You can decorate the plate with different types of cheese, rosemary, dill, grapes, bread, bacon, and so on. I add a delicious mayonnaise dip to the platter.
On the contrary, if you are not planning to let the guest take the hassle, it's better to present the food ready. You can use cheese to make a crunchy appetizer, sandwiches, mac n cheese, garlic toast, cheesecake, and the list can go on. No matter what the dish is, you can never go wrong with cheese if you can pair it with the dish nicely. Even though the plating is important, you can always go creative having your own style.
---
Tips to Follow While Cutting Cheese
---
When I was an amateur, I made several mistakes while dealing with cheese. Thus, I would like to take the time to give you some tips so that you don't repeat them as I did.
Cut cheese as you serve the dish
Whether you take a cheese knife or slicer, it's recommended not to saw
While cutting cheese, move the knife back and forth. The cheese won't get stuck
Always keep your cutter or slicer clean and dry every time you use to avoid rust, bluntness, and corrosion
---
Know More about Cheese Slicer
---
Now you know the easiest way to slice cheeses. We hope you already have the best cheese slicer, or you have just bought a new one. 
But if you haven't bought it yet and want to compare the quality and price of some top products in the market, you can check the top 3 items below.
So, how were the top three collections? Did you find yours? If yes, then congratulations! But, if not, then you have an option to compare more products before making the final decision. 
You can check out our top ten best cheese slicer review with a handy comparison table.
Final thought
From savory to sweet, you can always make a great dish when there is cheese. Henceforth, I find slicing the right portion of cheese as one of the most significant parts of cooking. Whether you are a professional or an amateur cook, you will always get a hint on how to cut the cheese by its shape.
So, no matter whether it's blocks, cubes, or crumble, cheese is delicious in all ways!! Just follow the techniques and tips, as I discussed, to get the perfect cheese slice.