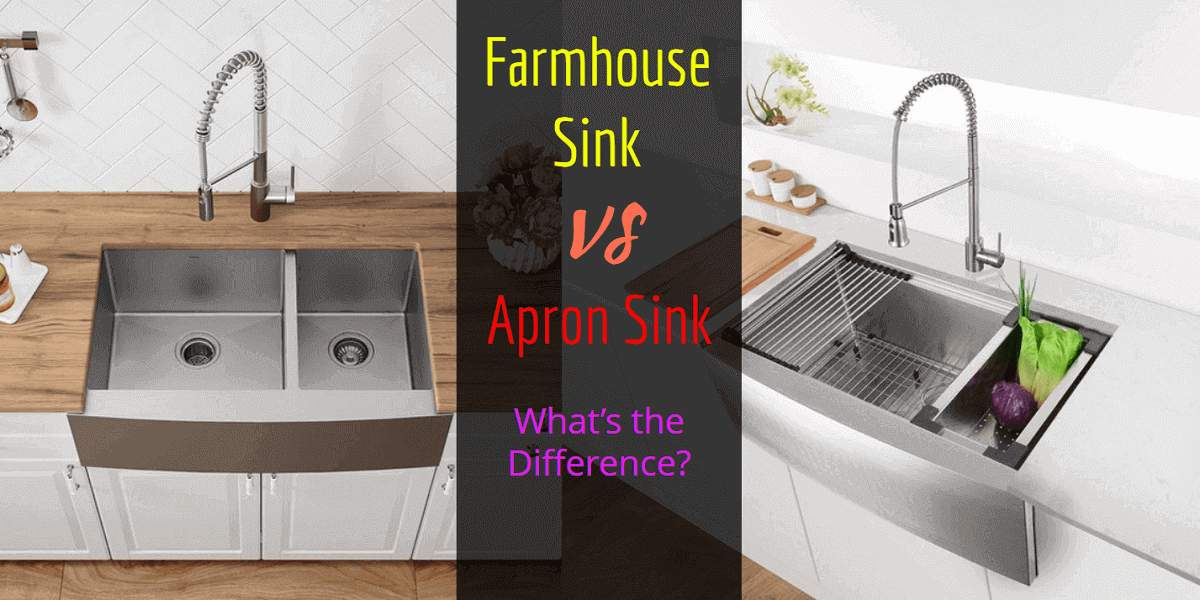 While searching for the best farmhouse sink, one question that commonly comes to a lot of people's minds is what is the actual difference between a farmhouse sink and an apron sink.
Before I illustrate my point on the farmhouse vs apron sink, I would like to start from the very basic definition of these two sinks.
What Is Farmhouse Sink
---
Compared to the traditional or classic sinks, farmhouse sinks are designed to position to adjust to the kitchen cabinet. It is installed in a form that looks like a seamless part of the countertop.
The basic identifying feature of a farmhouse sink is its appearance. Usually, farmhouse sinks are made of traditional materials like porcelain, stainless steel, cast iron, etc., but the style and installation way simultaneously creates a luxurious look.
Additionally, this sink is a drop-in sink, large in size, and built-in a shape that people can use the sink conveniently without leaning over.
The size makes it eligible to use for multiple jobs such as washing vegetables, cleaning dishes, clothes, children, and so on. Also, you can get a double basin in the farmhouse sink if you require it.
Benefits of Farmhouse Sinks
---
Due to some undeniable benefits, farmhouse sinks have been quite popular these days. Here, I would like to highlight some of the facts that you can enjoy using farmhouse kitchen sinks:
It comes with a modern design that can transform any farmhouse into an aristocratic look
Adds an aesthetic look to any farmhouse that creates a cozy atmosphere. You can get a very large space to comfortably deal with large dishes, pots, pans, and other purposes.
Though the farmhouse sink comes as one sink, due to the size, it can be divided into two sinks as per the convenience of the user.
There is a wide variety in style, color, material, and size to choose from, compatible with the kitchen interior.
Farmhouse sinks are easy to clean.
You can enjoy noise-free cleaning in a fireclay or porcelain sink.
The size and deep cut of the sink reduce the splashing of water during cleaning.
You can choose from any material, including porcelain, enameled cast iron, stainless steel, copper, marble, etc., as per the compatibility of your kitchen interior.
Drawbacks of Farmhouse Sink
---
Though farmhouse sinks are highly preferred for their appearance, benefits, and variety, there are a few drawbacks or less liking aspects of this sink:
Farmhouse sinks are expensive than traditional under-mount sinks
The size of the sink is so vast that you may need to redo the countertop to assure compatibility with the countertop.
Installation of a farmhouse sink is challenging that it needs expert hands and may need to build an additional basin for accommodating the sink.
What Is Apron Sink
---
Though a farmhouse sink is often referred to as an apron or apron front sink, an apron sink is never called a farmhouse sink.
Apron sinks are also deep-cut sinks that are designed to hold water and conveniently work with big to small sizes of pots and dishes.
The primary identifying feature of the apron sink is the design. It comes with an exposing front-facing side that will create a distinct appearance of the existence of the sink.
Though it's fixed with the countertop, you can easily see the pop-out sink as you enter the kitchen.
Benefits of Apron Sinks
---
Here are the benefits of apron sinks:
Apron sinks are made of ceramic and metal, which are durable and ergonomic.
The size and deep cut can contain a large volume of dishes
The exposing front-facing side is designed to protect the cabinet from damage
Drawbacks of Apron Sinks
---
Here are a few limitations of apron sinks:
Apron sinks are expensive compared to the under-mount and upper mount sinks
The installation process is also costly and challenging compared to the traditional sinks
The depth of the apron sink cannot assure any splashing and can be troublesome for tall users
Farmhouse Sink Vs Apron Sink
---
Though farmhouse sinks are also called farmhouse apron sink, there are slight differences.
Based on the two definitions and added advantages and disadvantages of both apron and farmhouse sink, here, I will explain the fundamental differences in terms of categories:
Design – Both of the sinks are large and deep in size. However, the exposed front face of the apron sink is visible whereas, the farmhouse sink is adjacent and covered by the kitchen cabinet.
Style – The apron sink comes with a large drying area. But, the farmhouse sink comes with a large sink and a farmhouse kitchen faucet without any drying or drainboard. It's a single workstation for washing purposes only.
Installation – Since the apron sink comes along with a drying board, it's comparatively large in size. It makes the installation process difficult, and if the sink is made of ceramic, then it becomes heavy too.
On the other hand, the farmhouse sink is a standalone sink; it's moderately easy to install on the cabinet base.
Material – The classic apron sinks are made of cast iron or fireclay, but there is a wide variety such as ceramic, concrete, granite, copper, and stainless steel farmhouse sink material.
Faucet – Often, the apron sink comes with a wall-mounted faucet, whereas the farmhouse sink can be designed with a farmhouse kitchen faucet, countertop, or wall mount.
Appearance – The apron sink gives a more urban look in a traditional farmhouse. On the other hand, the farmhouse sink can create a more aesthetic look depending on the style, material, and cabinet design you choose to install.
---
Know More about Farmhouse and Apron Front Sinks
---
We have discussed almost all the differences between farmhouse and apron sinks. Now the choice is yours.  
If you decide to buy a farmhouse sink for your kitchen right now, you can check the top three items we have chosen based on quality and popularity.
So, how were the top three collections? Did you find yours? If yes, then congratulations! But, if not, then you have an option to compare more products before making the final decision. 
You can check out our top ten best farmhouse sink review with a handy comparison table.
Final Thought
Actually, farmhouse sinks and apron sinks are interchangeable as they are designed with one purpose, which is to hold a large volume of water.
As time evolved, there is a wide variation in design, style, material, and quality as we explore the comparison on Farmhouse Sink Vs Apron Sink.
In a nutshell, you have more options to choose from the farmhouse sink that will accentuate the interior of your favorite farmhouse.