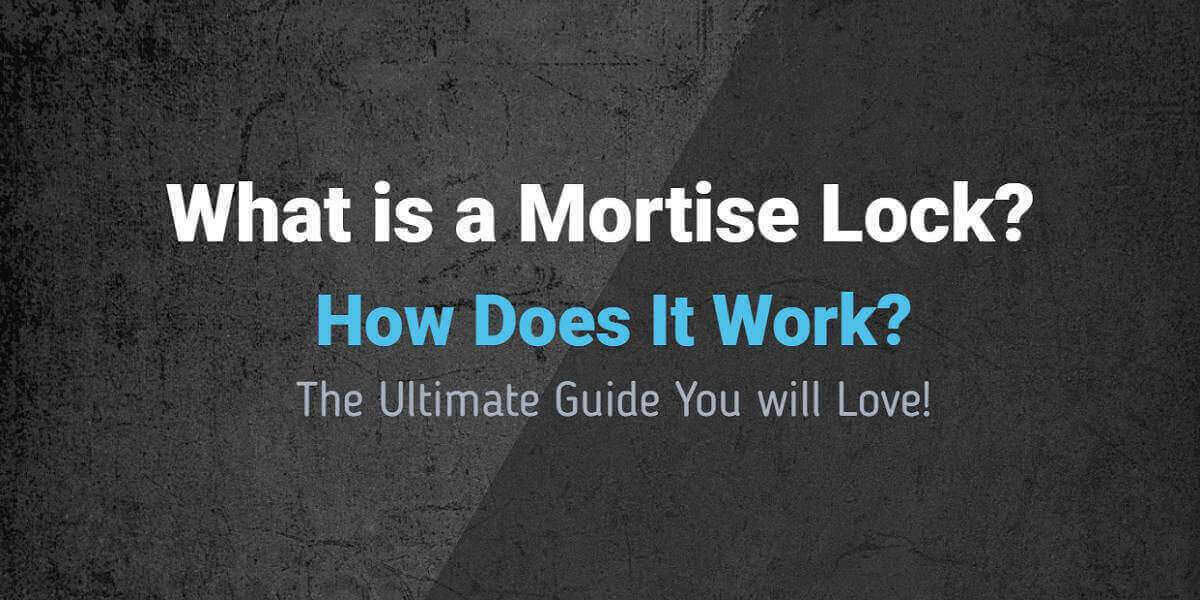 I can never compromise with security and privacy. And the first option for ensuring security for any indoor space starts with the door lock system. If you are also concerned about home or office security, then here is the good news!
The mortise locksets are here for you to ensure the strongest security. At present, these locks are incredibly reliable for offices, shops, or residences. The reason for the massive popularity is the internal mechanism and construction of the lock that makes it an extraordinary one.
Many of you may have heard about this lock; thus, you are eager to learn more about it. Knowing the basics about a mortise lock will help you identify the best mortise locks. Henceforth, I am going to present to you all the details about this lock that will amaze you. Though it's similar to the common cylinder locks, from this article, you will be surprised to know how upgraded the mortise lock is.
Let's unveil the mystery together!
What Is a Mortise Lock?
---
To begin with, you already know a mortise lock promises the utmost security. Mortise locks are much popular in commercial security industries. If you look up the internet or door hardware shop, you will find many brands manufacturing different models of mortise locksets. There might be some added features in different mortise locks for bringing versatility. However, some basic mechanisms exist in any mortise lock.
First of all, the mortise lock is unique because it's made of high-quality elements. What distinguishes this lock from others is its special mechanism that is installed inside the door. It's a box lock that consists of four essential components, such as a mortise lock, lock trim, strike plate, and key cylinder.
The lock needs to fit in a pocket or mortise in the door when you install it. And that is why it's known as a mortise lock. So, as you intend to install, first, you need to cut a mortise in a door to fit in the box lock. Here, the important point to consider is that not all door has the capacity to install a mortise lock.
So, overall, a mortise lock is a highly efficient security lock that is designed to install in the mortise or pocket of specific doors. Thus, before installing the mortise lock, make sure the door is thick and strong. I would suggest picking a door with approximately 2 inches' thickness for a mortise lock. Or pick a door that is difficult to break by any intruders.
---
What Is the Mechanism of a Mortise Lock?
---
Knowing how a lock is constructed is a must for any user to understand the efficiency of any lock. Therefore, before you decide to install such a lock, here I give you an overall idea of its whole mechanism and how it works.
So, talking about the mechanism of a mortise lock, there are two parts. One is the lock body, and the other one is the lock trim. First, to install the lock body, a mortise or pocket needs to cut inside the door. Then, the lock body is installed inside that pocket.
Some mechanical elements are present in the lock body. This part includes a mortise cylinder, deadbolt or sash lock, latch, latch bolt, a trim, and a thorough spindle. The spindle incorporates the lock with the lock trim or handle.
Next, the lock trim is adjusted with the lock body and installed outside the door. The lock trim is installed on two opposite sides of the door. Now, to operate the door for locking and unlocking function, there is a key cylinder.
This functionality may vary from different designs of the doorknob. Here, the mortise lock companies give you options to choose from the wide variety of doorknob, lever, or handle available, considering your preference.
Overall, the lock body and the lock trim are of separate mechanism that is connected with the spindle. This is the key identifying system that makes the lock strong and durable. So, this is the basic mechanism of a mortise lock. Depending on the versatility of the lock, there might be added functionality included in the lock.
---
What Are the Types of Mortise Lock?
---
As you have a profound idea about the mortise lock, I think it would be a good idea also to inform you regarding its types. The mortise locks come with a few variations over the years. From a deadlock to latch, all common types have been produced. However, latch locks are popular these days.
Though there are different types of mortise locks you may see, considering the mechanism, they can be differentiated into two types. Here, I would like to discuss them below briefly:
Sash lock
Some mortise locks are designed with non-locking sprung latch. These locks are called sash locks. Basically, the lock functions with the help of the door handle.
Deadlock
The deadlock does not come with a handle or door latch. Rather, they are also designed with a non-locking sprung latch. However, instead of operating with a door handle, the lock functions with a pin tumbler rim lock.
---
Why Do You Need a Mortise Lock?
---
As time passed, the users prefer to have mortise locks with the lever for their office or residence as the handled locks are convenient and desired by mass. Hence, to fulfill the need, now the mortise locks are constructed with lever locks inside and outside.
Now, a lot of the users out there might think when there is a huge variety of locks available in the market, do we actually need a mortise lock? A lot of the users commonly ask this question. And their prime reason is installing complexity. I totally agree with them.
But there are various types of door locks available with diverse quality in the market. In such a case, if you pick an elegant-looking doorknob without really checking how much security the lock can ensure, then it can be a grave mistake.
Actually, it won't serve the purpose of having a lock. Moreover, having a poor quality lock at home or office space may increase the risk of robbing. How? The robbers or thieves often break into the door. Often, they can unlock a door lock easily through techniques. But, when you have a strong lock, it will not be easy for them to break or unlock.
Besides, the mortise lock has massive popularity for its strength and reliable quality. Instead of spending money on repairing or maintenance over poor quality lock, isn't it better to have a wise investment in a high-quality lock? It will not only be cost-effective but also give you mental peace.
Apart from the strong and critical mechanism, the mortise locks are also available in an elegant design. If you are picky about interior design, then you can find extensive quality and versatile design mortise locks matching with your door and furniture.
So, when you need an elegant lock that will keep your home secured, you should consider mortise. Because my experience says, no other lock can beat the performance of a mortise lock.
---
What Is the Difference Between Cylindrical Locks and Mortise Lock?
---
As I was writing to describe the mortise lock, I realized a comparative discussion would be helpful to understand better. I also feel it's a necessity, especially when you need to replace or repair locks. It's undoubtedly a troublesome job, but which lock gives me less trouble only that matters.
Since most of the users tend to use cylindrical locks, therefore I have chosen to discuss the differences between cylindrical and mortise.
Cylindrical lock
Cylindrical locks are widely used in the office door, residence, bathroom, and so on. This lock comes with a lever or knob on both sides. So, as you install, you have access to open it in either way. The most beneficial aspect of this lock is, you can easily install it on any door. All you need to do is around 2 and ⅛ inches hole.
Some locks come with a bolt. So, to install a cylindrical lock, you need a drill machine. Then, create the necessary holes required. For example, use the drill to create a hole for the bolt. Then, for installing the latch bolt, you need to bore the side of the door. When all the drilling is done, you can just place the parts in the right places, and your door security is ensured.
It's quick, easy, and no professional help is required. Most importantly, they are not much expensive as well. That is why cylindrical locks are so popular among mass users.
---
Cylindrical Lock Vs. Mortise Lock
---
So far, you already have an idea of what a mortise lock is. However, in comparison to the cylindrical lock mechanism, the mortise lock is quite different.
In a cylindrical lock, the lock is adjacent to the knob. Whereas the lock and handle in a mortise lock are separated. Moreover, the lock is actually above the handle. Though you have seen how easy it is to install a cylinder lock, for a mortise lock, you need to cut a mortise first. And, doing this job needs professional help. Otherwise, you may not be able to install it single-handedly if you do not have the expertise.
Also, for the cylindrical lock, you need only a drill machine. However, for doing the mortise, a mortising jig is strongly recommended. If the cut is not accurate, the lock will not fit properly. Sometimes, the installation process may hamper the door.
Therefore, you need to check if the door is strong enough to install such a heavy-duty mortise lock. If you are not confident about your door, you can get help from a security expert. Because installing a strong lock on a weak door won't be of any help.
Even though the installation of a mortise lock is troublesome, you will be amazed by the strengthened security you will get from this lock. Moreover, this lock gives you the discretion to choose on which side you want to make the keyway. You can also include a deadbolt if you wish.
Regarding performance, the mortise lock will ensure smooth operation. Meaning, as you operate the knob, it quickly and swiftly returns to its position. This quality also ensures durability and quick operation of the lock.
So, as per my perspective, the cylindrical lock may give you the ease of installation. However, if you consider long-term benefits, the mortise lock would give you the utmost satisfaction. Though cutting the door and the installation process is a bit complex, the quality and longevity of the lock cannot be overlooked. Because, in the end, security is most important.
---
Know More about Mortise Lock
---
Now you have known all about a mortise lock. We hope you already have the latest one to keep your home secured. 
But if you haven't bought it yet and want to compare the quality and price of some top products, you can check the top 3 items below. 
So, how were the top three collections? Did you find yours? If yes, then congratulations! But, if not, then you have an option to compare more products before making the final decision. 
You can check out our top ten best mortise lock reviews with a handy comparison table.
Final thought
If you are thinking of replacing your old lock or installing a new lock for your office space or residence, probably the mortise lock would be your first priority now. I would say it would be the best decision because wherever you stay, security is a must.
Though it may cost a bit compared to the regular locks, the safety service and durability you are going to enjoy will be worth it. You may choose from a sash lock to a deadlock that is convenient for you. However, before you install it, I would urge you to get a compatible door and professional help for installation.