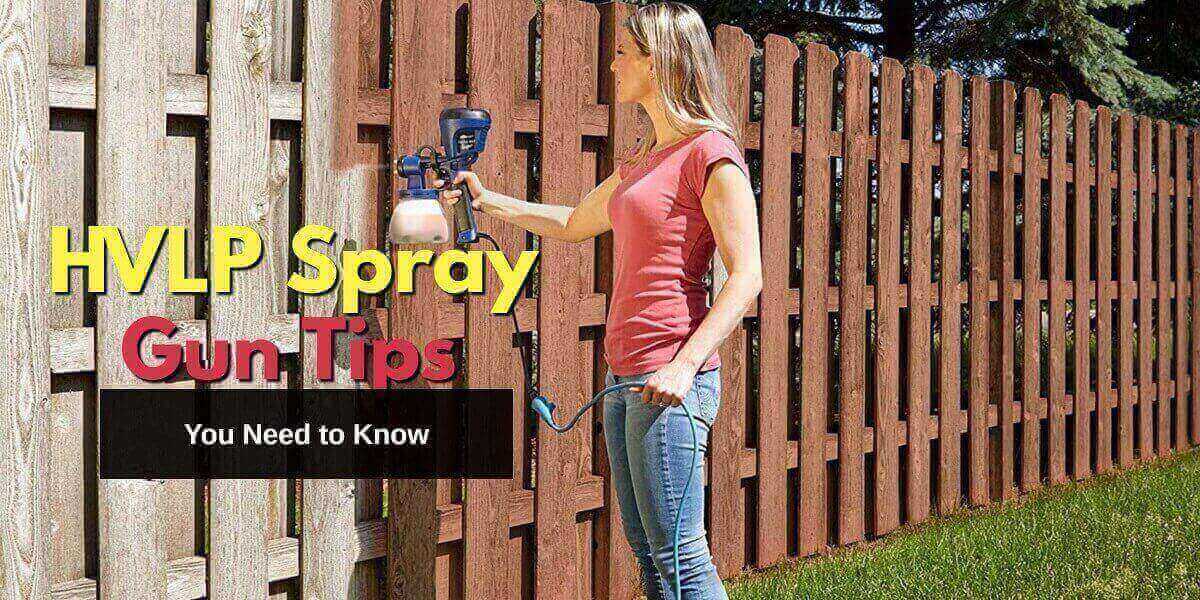 If you are a painter or love painting, you must be familiar with a hvlp paint sprayer. It is one of the amazing paint sprayers that gives a new thrill living the passion of the painters. Thus, users are desperately searching for the Best HVLP Paint Sprayer from the paint sprayer reviews. The best fact about hvlp spray gun is from professionals to DIYers; anyone can use it without any training or experience.
Though you may find some valuable information like HVLP spray gun uses, how it works, renowned HVLP manufacturing brands from the reviews, hardly anyone would suggest you tips for the device's longevity or smart use. Being a professional user, I know how important it is; thus, here I am going to suggest some easy and valid HVLP spray gun tips and techniques that will help you protect the device for longer use.
However, I won't leave you giving the tips only. Rather, I will also briefly explain the basic information as well, which will help you relate to the tips and follow them properly.
What Is an HVLP Spray Gun?
---
Almost every painter is familiar with what an HVLP spray gun is. But, the purpose and the actual definition of the gun lies in its elaboration. HVLP stands for high volume, low pressure. Usually, when we paint, we often face the crisis of depleting color, uneven layer of paint, and so on, meaning a wastage along with imperfection.
But, using the HVLP gun, these risks can be minimized because the device is operated by hand and needs air pressure. Hence, no matter whether you have a paint bucket or a container when you trigger the gun, the paint will come out at the required amount due to the low air pressure.
This is the overall introduction and HVLP spray systems in short. Since the color will be applied like spray, it is easy to ensure even layers of paint on the surface. Also, you won't have to deal with wastage of paint, which usually happens with a brush. So, the purpose of using an HVLP spray gun is to ensure professional finished painting in a short time, with minimal cost and zero wastage.
---
How Does HVLP Gun Works?
---
Though HVLP may sound technical, the functionality of the HVLP gun is pretty simple. It basically runs on an HVLP turbine spray system, which consists of two main sections spray gun and head. The gun is supposed to be operated by hand. Then, to spray the paint in the right direction and surface, there is a moving holder where the head is attached.
As you attach the paint bucket with the gun, you need to press the trigger button to paint. The air pressure through the trigger will force the paint to come out through the nozzle. Thus, instead of paint droplets, it will release like spray.
---
Types of HVLP Sprayer
---
Although the HVLP sprayer mostly refers to the handheld paint sprayer, there is a wide variation in its types. Depending on where you are going to paint, you can choose the right sprayer gun. Mostly, conventional, airless, HVLP, air-assisted, and conventional are some of the popular sprayer guns used for professional or DIY projects. The main difference between each type is the size.
Usually, the conventional spray size is 6-8 inches. A little bigger size is the HVLP sprayer, which is 8 to 10 inches. The airless spray is about 14 inches. Since you are up for an HVLP gun, you must know that the spray gun comes with a gun tip. This size also differs depending on where you apply.
0.5-1.0mm – Most of the regular HVLP spray gun kit comes with a 0.5-1.0mm tip. It helps to spray a minimal amount. If you want to paint any specific area with precision, then this tip will be helpful.
1.2mm, 1.3mm – If you want to use an HVLP Touch-Up Spray Gun for a thin layer of paint or see-through coat, then a 1.2mm tip will be a wise choice because it has a very tiny hole that allows only a little amount of paint to come out. Thus, it's easy to apply a base coat quickly and efficiently.
1.4mm – A good number of users also use an HVLP spray gun for cabinets. Painting does have different stages until the final finish. However, for having a thick coating on the cabinet, you may choose 1.4 mm.
1.5mm, 1.6mm – If you are in need of an ideal tip for a single coat, then you can go for the 1.5mm, 1.6mm tip. It's also good for base paint or primer application.
1.7mm, 1.8mm – For interior or exterior, the HVLP spray gun Home Depot is also quite popular. For this purpose, users also look for the tip with a bigger hole. Thus, you may choose 1.7mm, 1.8mm gun tip. It's also used for priming and coloring purpose.
HVLP Spray Gun Tips
---
Now, it's the right time to talk about the tips. Since HVLP spray gun parts have different functionalities, you should follow a specific technique for each section. The below-mentioned tips will also help you use the spray rightfully and protect it for long time use.
First of all, bear in mind that the HVLP spray gun is used to cover a small area because the HVLP spray gun pressure releases a small amount of paint. So, if you are in need of painting a small project, then you are on the right track. Otherwise, it will be a hectic job to paint large areas using an HVLP gun.
If your gun operates with air pressure, I strongly recommend getting a large air compressor. It's because if you rely on the built-in air supply, eventually, it will affect the durability of the compressor. Thus for the longevity of the gun and quick painting, an external air compressor would be great.
Before you start using the HVLP gun, you gotta ensure that the air filters are properly clean. For cleaning the air pump, pour runny water to remove all sorts of dirt, dust, and other debris.
It's a great device to use for manufacturing or repairing automobiles. If you don't want to spend money on the garage for your scratched car, you can do it on your own using the HVLP spray gun. You will be satisfied with the result.
How efficient the painting will be or how quickly you can complete the painting depends mostly on the nozzle. Thus, choosing the right nozzle is an important factor. So, before you choose the nozzle to decide what kind of material you are going to be painting. Depending on the material and requirement, you can choose a large nozzle for thick material and a small nozzle for thin material.
Though clear instruction is available with most spray guns, if not, then you should start spraying to the lowest air pressure.
Too high air pressure will give large droplets and will take time to dry. Thus, checking the droplet size will be wise for proper application. Also, remember to spray the gun quickly on metal or glass objects for a thin layer and spread the droplets.
To check the droplet size and right air pressure, you begin with the lowest possible pressure. Then check in each 5-pound step. In doing so, eventually, you will get a small and uniform color. Here, you should adjust the droplet and air pressure according to your convenience. I would say practice first before use.
As you are painting, the object ensures to maintain a consistent distance and keep the gun perpendicular for an even and smooth finish.
You need to ensure regular maintenance for the durability of the HVLP spray gun. For this, read the instruction for any maintenance tips. Additionally, you may clean the air cap to remove the color using any solvent. It would be better if you can clean the gun overall with gun cleaner. Keep the gun lubricated for smooth operation every time. Even if you don't use it often, check if all parts are working well regularly.
Since a lot of DIYers also use a spray gun, there is a risk of causing a health hazard. Therefore, I would request you to bear in mind not to target the gun on any person. Make sure the safety tip is attached to the gun and keep the safety lock in place when you are not using the gun.
---
Know More about HVLP Paint Sprayer
---
By now, you have got some important tips on using an HVLP paint sprayer. We hope you already have the latest HVLP paint sprayer, or you have just bought a new one. 
But if you haven't bought it yet and want to compare the quality and price of some top products on the market, you may check the top 3 items below. 
So, how were the top three collections? Did you find yours? If yes, then congratulations! But, if not, then you have an option to compare more products before making the final decision. 
You can check out our top ten best HVLP paint sprayer review with a handy comparison table.
Final Thought
In the end, I would like to warmly thank you for looking for HVLP spray gun tips because a lot of users don't find it necessary. You may invest a good amount of money for the best spray gun, but it won't be enough if it doesn't last long. Since there are diverse types of users, from amateurs to DIYers to professionals, I have tried to explain the tips in simple words. I hope you have enjoyed reading the article.
I am open to learning. So, don't forget to let me know your tips for using an HVLP spray gun!